Mumbai: The slogan for this year's Ganesha Chaturthi celebrations has been about going eco-friendly. Every year, Mumbai sees over 2 lakh Ganesh idols being immersed. These idols mostly made of plaster of Paris (PoP) cause harm to aquatic life. But this year when Mumabikar's bid adieu to Lord Ganesha the fish will be waiting to receive him into their homes.
Prominent abstract artist and philanthropist, Krupa Shah from Mumbai have created the first-of-its-kind fish-friendly Ganesh idol, which the fish can eat. Shah along with her three daughters made the idol using red soil, alum, organic colours and homemade fish food. The idol is installed at her residence in South Mumbai. She says, "We will immerse it after a day and a half of celebration and it will not harm the aquatic life."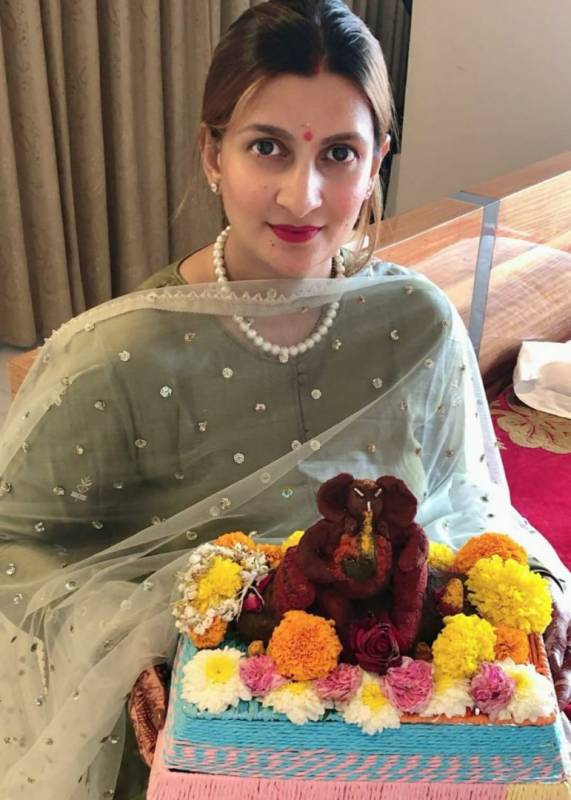 Shah says, "I wanted to create a Ganesha idol that does not disturb the aquatic ecosystem or pollute the sea bed. So, my daughters and I did something different that would not just satisfy us but prove helpful to society as well."

Talking about her idol Shah says, "On the day of immersion, the mud once it comes in contact with water will mix, alum will dissolve and purify the water and the fish food will be consumed by the fishes and no damage is done due to the decorations."
In order to do her bit to protect the environment as well as to help the underprivileged children in the city, Shah has asked visitors to her home and fellow devotees to offer stationery items to Lord Ganesha as an alternative to sweets, cash, or coconuts. Post the celebrations, the stationary items will be distributed among the underprivileged children as a way of giving back to society.
Shah has also been conducting workshops to teach school and college students the art of making Ganesha idols from eco-friendly materials. Shah's aim is to diminish the harmful effects of Plaster of Paris (PoP) and toxic paints made with chemicals that polluted the water. On a concluding note, she adds, "A small change or contribution can make a big difference."