Flood victims wait in long lines on empty stomachs as promised government relief yet to see light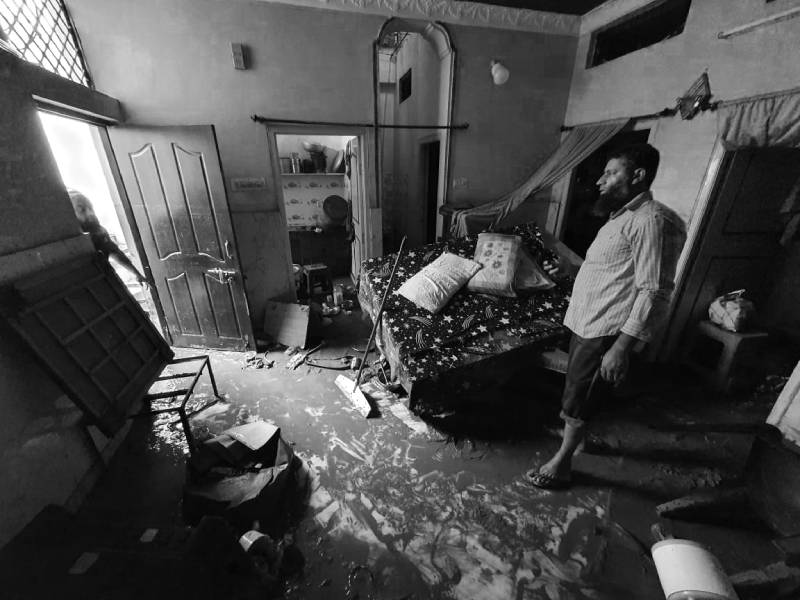 Hyderabad: Machendra Kumar Mishra and his wife, residents of Uppuguda, are visually challenged. Their daughter, too, can't see properly. The family lost their rations and other belongings when their house got flooded in the recent thundershowers that left many families stranded without basic necessities. But, they breathed a sigh of relief when the government announced aid to the victims of the flood-hit areas.

But their hope was short-lived as the family is yet to receive aid from the state even after it has been more than a week since the disbursement of the flood relief amount has started.

"We lost all our rations and being blind I can't go out and get food. Me and my family are able to survive only because of the help from the NGOs which is also going to get over soon. I don't know when we will get the financial aid promised by the government," said Machendra Kumar Mishra.

Between 12 and 18 October, Hyderabad received unprecedented rainfall which led to more than 50 deaths and property loss of Rs 670 crore within the city limits. The state government announced Rs 550 crore as immediate flood relief under which Rs 10,000 cash was to be provided as immediate financial assistance to each affected family.

Many people, whose homes got flooded and took shelter in relief camps, are gradually returning. But their normal life is yet to begin as they still need rations to cook and survive. Most of the flood victims are completely dependent on the relief money which are yet to receive.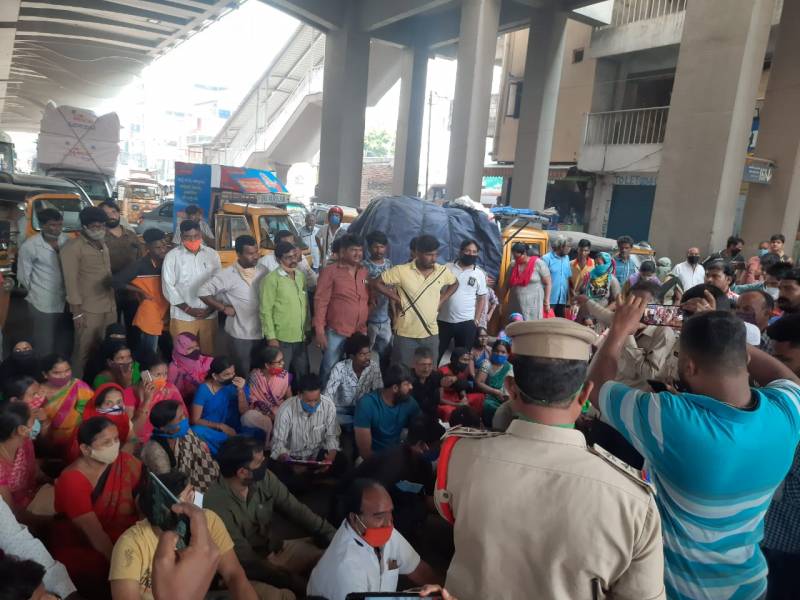 On 31 October, residents of the Old City started publically protesting for the promised Rs 10,000. They alleged that the ruling party leaders are diverting the compensation to their people.



"My wife had brain surgery last year and I spent around Rs 2 lakh on the procedure. I had to sell our gold for her treatment. On top of that, the flood took everything from us. Now I had to borrow money for her treatment. She is unconscious and I am running from pillar to post for money so that even I can buy food for us. Some GHMC officials came and distributed aid to people in our lane. When I asked for the same they asked me to wait. Now four days have gone by and when I went to their office I saw that they are only allowing in people that they want and not everyone. I am still waiting for the government's help," said Mohd Sujatuddin, resident of Jalal Kuncha.




In Kishan Bagh, residents are alleging that some 'local leaders' are asking people money in return for providing the relief amount.


"One person here, who calls himself a party leader, has been asking Rs 3,000 in return for releasing Rs 7,000," said a resident of Kishan Bagh with under the condition of anonymity.

"In our lane, most of the people have not got their aid yet. Hence, these so called local leaders are asking for Rs 5,000 as a fee to get relief amount released from the government. For the last three days, I have been getting up at 3 am to stand in line at the masjid in our area to get my compensation but I haven't received anything yet," said Sahana Sultana, a resident from MM Pahadi.


Due to the flood, businesses that support livelihood have also taken a hit. "My husband used to drive an auto-rickshaw whose engine is now flooded. We need around Rs 80,000 for its repair. We don't have that much money and we have lost everything in the flood. The only immediate solution for us is the relief amount. On an empty stomach, I have been standing in line for hours for the last four days. But, we have not received anything so far," said Anwali Begum, a resident of Nawab Sahab Kunta.

On Saturday, at Uppal Municipal Circle, a group of women held a protest demanding the relief amount. In several parts of the area, local residents are alleging that the funds have been misappropriated by the leaders.