Hyderabad : Paving the way to celebrate festivals in an eco-friendly manner, residents of Ahmedabad did not immerse the idols of goddess Dashama, but instead left the idols on the banks of the river Sabarmati. Commissioner of Ahmedabad Vijay Nehra tweeted about the initiation and said, "Something amazing…" and "Unbelievable change from the citizens (sic)."
TRS working president K. Taraka Rama Rao was quick to pick up the initiative and retweeted Mr Vijay's tweet, asking Hyderabad mayor Bonthu Rammohan and Greater Hyderabad Municipal Corporation (GHMC) authorities, "If Ahmedabad can do it, why can't we in Hyderabad take a leaf from their book and try the same for Ganesh Chaturthi? (sic)"
Speaking to Newsmeter environmentalist Madhulika Choudhary said, "Everyone knows what is happening over years with the immersion of POP and painted Ganesh idols in the water bodies. But people still don't want to opt out of it." She urged the citizens not to immerse the heavily painted idols, flowers and plastic materials with the idol. "They are harmful to the aquatic animals, making it difficult for them to survive," she said.
According to GHMC officials, around 74,000 Ganesh idols have been immersed in Hyderabad's Hussainsagar lake and about 5,790 tonnes of waste material was removed in the Ganesh Nimarjan, was reported in 2018 by the Business Standard.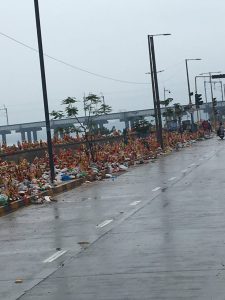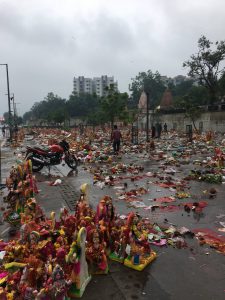 Dashama festival celebrated in Ahmedabad is similar to Ganesh Chaturthi celebrated in Telangana and many other states in India. People worship the idol of goddess Dashama and perform special pujas for 10 days. On the 10th day people immerse the idols in water bodies. However, POP idols cause severe water pollution and are a concern that is being debated every year.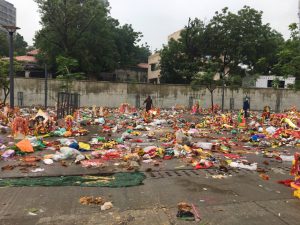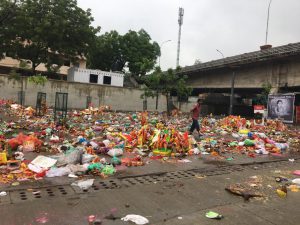 This year the 11-day-Ganesh Chaturthi festival will start on September 2 and end with Ganesh Nimarjan on the 11th day.