Dabeerpura: 38-year-old Azhar Maqsusi, who lives in the Chanchalguda area in Hyderabad, has been feeding hundreds of needy people every afternoon for the past eight years as part of his daily free-food camp by the name "hunger has no religion."
After this successful campaign in Hyderabad, he also started the same campaigns in Bengaluru, Raichur, Tandur, Jharkhand, Assam and Aurangabad where he feeds around 1,200 to 1,500 needy people on a daily basis. Azhar, who strongly believes that hunger has no religion, aims to see a hunger-free India.
Azhar started this free food campaign around eight years ago when he saw a physically handicapped woman, named Laxmi, who was crying and begging for food instead of money near the railway junction.
After the death of his father when he was four-years-old, Azhar has seen some very difficult times in his life. He has lived for days without food and thus, he says, that he can very well relate to the people crying for food.
Everyday, Azhar and his volunteers provide food to a large number of poor and homeless people under the Dabeerpura bridge in Hyderabad. Each person is given enough food so that they can eat to their heart's content. Azhar has been running this noble campaign out of his own pocket. Initially, food packets were distributed among the needy, but now the food is cooked and served hot to the people under the bridge everyday.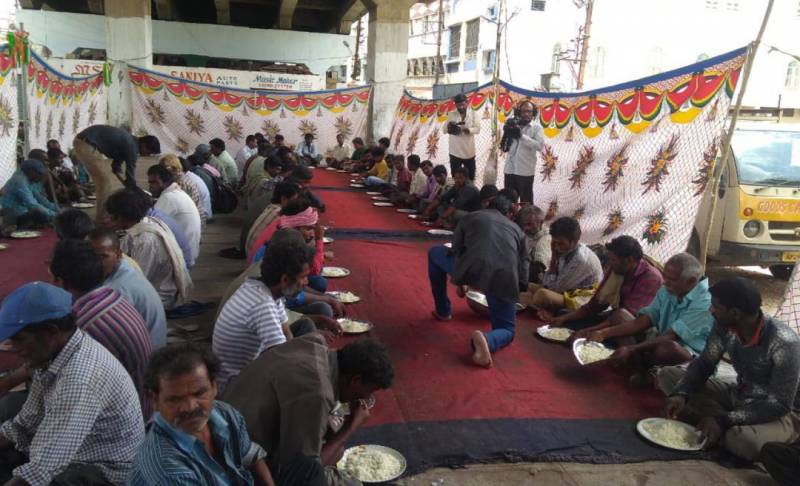 About his life
Azhar, who runs a Plaster of Paris (PoP) interior design business, lives a very simple life. Around 1,000-1,200 people are fed daily under his free food campaign under Dabeerpura bridge and Gandhi Hospital. After feeding 50 people everyday for two months, Azhar decided to hire a cook, who is paid a monthly salary.
Over the last eight years, Azhar has never borrowed a single penny. Nearly 25 kg rice, 2 kg pulses, one litre of oil and spices are required everyday. After looking at his noble initiative, Azhar's friends and family also came to support him.
After expanding his free food campaign, he aims to expand this across the country, if possible. He looks for hard-working and trustworthy volunteers in other cities and sends monthly ration that is required to feed the poor people.
While speaking to Newsmeter, Azhar Maqsusi said – "It all started when I saw a woman named Lakshmi who was crying, begging for food instead of money as she hadn't eaten in days. I immediately brought and fed her. My father died when I was four years old, and my mother struggled a lot to raise my siblings and me. I know what it is like to sleep hungry."
"I am retired. I don't have a family. I come here every afternoon since last year. I come and go by local train. I have a fracture in my left knee. Since then, he (Azhar Maqsusi) has been very kind to me. He tells me to sit comfortably and eat. He even served Mutton a couple of days ago," David, a retired old man said.
"I came here after my brother passed away. I have my lunch here from the past 3-4 years. The food here is very nice. He is a very nice man," Ashok, a cobbler said.
"I have been coming here for the past eight years. I come everyday. He provides nutritious food. Dal-rice, curries are very nice. I have a stomach full of food everyday. I'm grateful to him. We poor will be fed until he's alive," another old man, Roger said.