New Delhi: Former Finance Minister and senior BJP leader Arun Jaitley passed away on Saturday at the age of 66. He was admitted to the All India Institute of Medical Sciences (AIIMS) in New Delhi after he complained of breathlessness and restlessness.
The 66-year-old senior leader was admitted to the Cardio-Neuro-Centre of AIIMS on August 9. Jaitley had been unwell for around two years now. His health continued to deteriorate in the last 48 hours.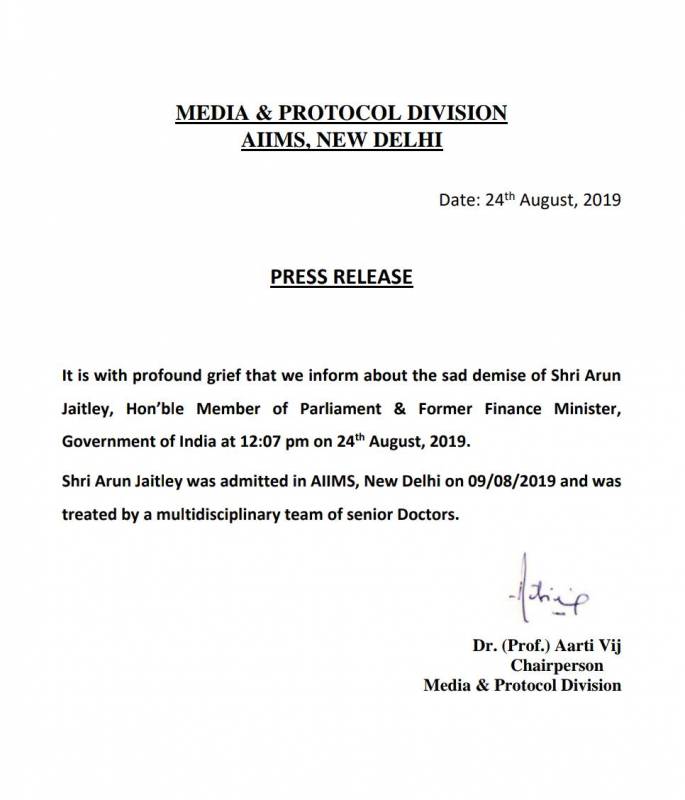 AIIMS, Delhi, released a statement which read that, "It is with profound grief that we inform about the sad demise of Arun Jaitley, Hon'ble Member of Parliament & Former Finance Minister, Government of India at 12:07 pm on 24th August 2019. Arun Jaitley was admitted in AIIMS, New Delhi on August 9, 2019 and was treated by a multidisciplinary team of senior Doctors."
According to sources, Home Minister Amit Shah has cut his Hyderabad visit short and is returning to Delhi following the sad demise of the former Finance Minister.
BJP leaders including other opposition leaders are expected to arrive at AIIMS. From last few days, top political leaders have been making a continuous visit to see Jaitely at AIIMS.
Various leaders expressed their condolences and remembered the contribution of Jaitely to Indian Politics. Union Home Minister Shah termed it as a personal loss.
Meanwhile, Vice-President Venkaiah Naidu was about to leave from Chennai for the inauguration of two railway and one defence projects at Nellore in Andhra Pradesh. However, now, Naidu has cut short his programme and is returning to Delhi to pay his last respects to former Finance minister.
Vice-President Naidu said, "I am deeply shocked to learn about the demise of Arun Jaitley, a long-time dear friend and one of my closest associates. His death is an irreparable loss to the nation and a personal loss to me. I have no words to express my grief."

"Outstanding Parliamentarian, legal luminary, towering intellectual, an able administrator and a man of impeccable integrity, Jaitley distinguished himself by effectively handling important portfolios as Union Minister in the cabinets of Sri. A. B Vajpayee and Sri Narendra Modi," he added.
Sorry to hear about the demise of #ArunJaitley ji, an articulate, intellect and affable leader. In his 4-decade long political career, he made notable contributions in the service of nation and stood up for values. My prayers are with his family and friends in this hour of grief.

— YS Jagan Mohan Reddy (@ysjagan) August 24, 2019
Extremely saddened at the passing away of Arun Jaitley Ji, after a battle bravely borne. An outstanding Parliamentarian & a brilliant lawyer, appreciated across parties. His contribution to Indian polity will be remembered. My condolences to his wife, children, friends & admirers

— Mamata Banerjee (@MamataOfficial) August 24, 2019
अरुण जेटली जी के निधन से अत्यंत दुःखी हूँ, जेटली जी का जाना मेरे लिये एक व्यक्तिगत क्षति है।

उनके रूप में मैंने न सिर्फ संगठन का एक वरिष्ठ नेता खोया है बल्कि परिवार का एक ऐसा अभिन्न सदस्य भी खोया है जिनका साथ और मार्गदर्शन मुझे वर्षो तक प्राप्त होता रहा।

— Amit Shah (@AmitShah) August 24, 2019
We are deeply saddened to hear the passing of Shri Arun Jaitley. Our condolences to his family. Our thoughts and prayers are with them in this time of grief. pic.twitter.com/7Tk5pf9edw

— Congress (@INCIndia) August 24, 2019
Arun Jaitley Ji was a political giant, towering intellectual and legal luminary. He was an articulate leader who made a lasting contribution to India. His passing away is very saddening. Spoke to his wife Sangeeta Ji as well as son Rohan, and expressed condolences. Om Shanti.

— Narendra Modi (@narendramodi) August 24, 2019