Delhi: Former Finance Minister, P. Chidambaram has landed himself in hot water as he faces arrest after the Delhi High Court removed his shield from arrest by rejecting the interim bail protection in the INX Media case on Tuesday.
Meanwhile, later in the day, a six-member team of CBI followed by ED officials visited Chidambaram's Delhi residence but he was not available there. Both CBI and ED officials are on the lookout for Chidambaram, sources say.
On late Tuesday night, a CBI team again went to Chidambaram's Jor Bagh (Delhi) residence and posted a notice outside, ordering him to appear before it "within two hours."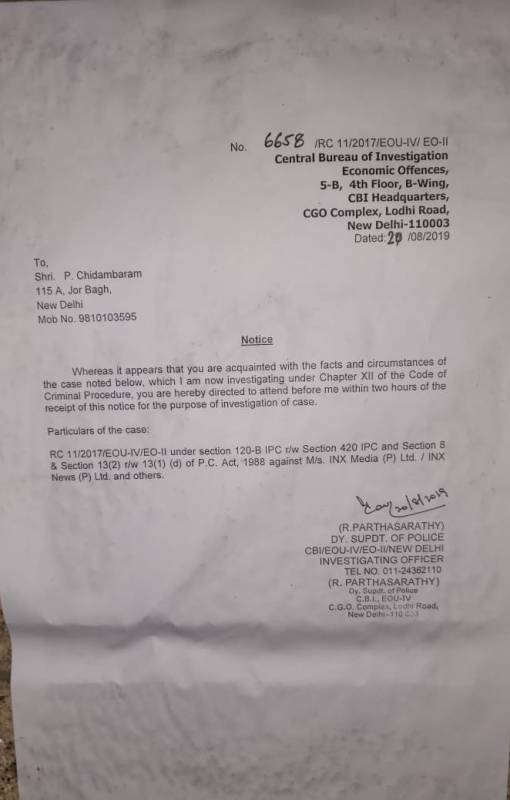 The Congress MP's lawyer has asked the CBI, under what law his client has been told to appear within two hours in this case.
The Delhi HC rejecting Chidambaram's request for anticipatory bail means that there is a high possibility of him being arrested.
Senior advocate, Kapil Sibal, who is leading Chidambaram's legal team, is likely to challenge the order in Supreme Court on Wednesday.
While rejecting the plea, Justice Sunil Gaur said, "Chidambaram's involvement in the case has been prima facie revealed, and anticipatory bail cannot be granted just because he is an MP." The Court said Chidambaram appears to be the "kingpin" in this case.
The senior Congress leader came under the scanner after probe agencies accused his son, Karti Chidambaram, of receiving kickbacks in exchange for allowing INX Media, a television company, to receive foreign funds amounting to Rs. 305 crore under the UPA government in 2007. During that time, P. Chidambaram was the Finance Minister.