Hyderabad: Out of the six new COVID-19 cases which were detected in Andhra Pradesh on March 28, four of them had a travel history to different parts of the country as well as abroad. With this, Andhra Pradesh has reported a total of 19 COVID-19 positive cases, as of Saturday.
According to the health bulletin released by the Director of Health and Family Welfare, Andhra Pradesh, two of the recent COVID-19 patients from Andhra have no travel history but are the primary contacts of a corona patient, who was earlier tested positive.
Details of the new patients:
1. Patient 14 and 15: are the contacts of Patient No. 10 who went to attend a religious meeting in Delhi. Both of them are natives of Guntur District. They got into contact with Patient no. 10 on March 19, 2020 and got admitted into hospital on March 26. Both of them are in isolation since then.
2. Patient 16: is a 60-year old man from Prakasam district who returned from Delhi. The man had reached Delhi on March 14 and stayed in Bangla mosque for four days. On March 17, he boarded the Duronto express, which reached Vijayawada on March 18. On March 18, he boarded the Jan Shatabdi express and travelled till Ongole. After taking the passenger train from Ongole to Chirala on March 19, he reached home the same day. It was on March 26 that the man began to show symptoms.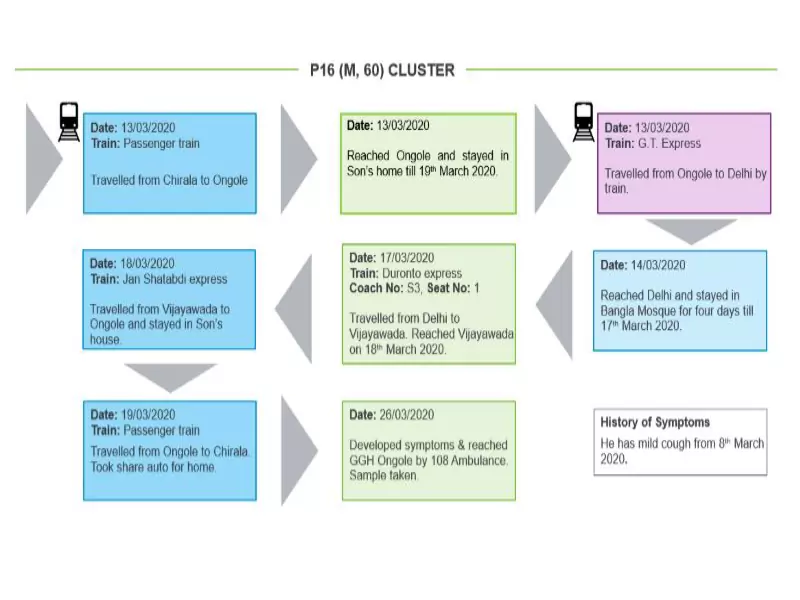 3. Patient 17: is a contact of patient 16, a 50-year old woman from Prakasam district. On March 19, she had taken the passenger train from Ongole to Chirala, and developed symptoms of COVID-19 on March 26.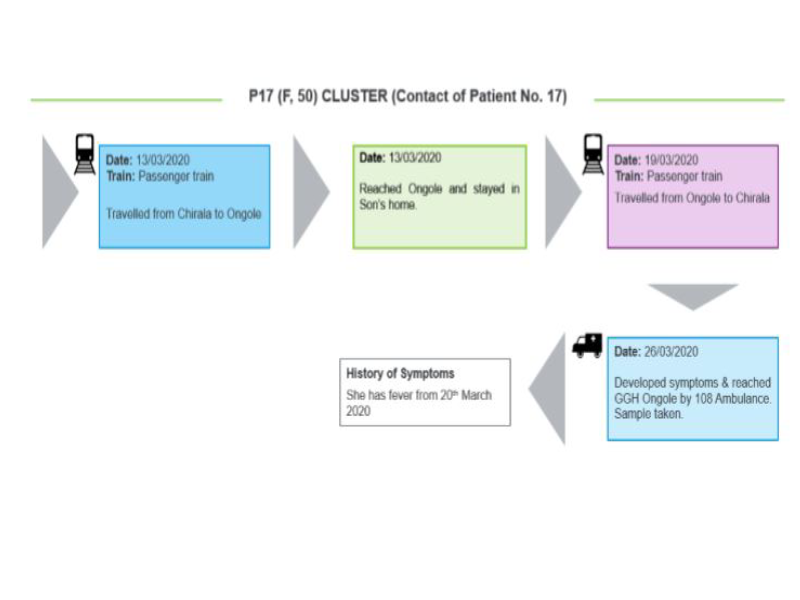 4. Patient 18 : is a 65-year old man from Krishna district, who had returned from Mecca. He had reached Hyderabad on March 9 from Mecca. The next day, he travelled to Vijayawada from Hyderabad by bus. Later, he developed symptoms on March 27.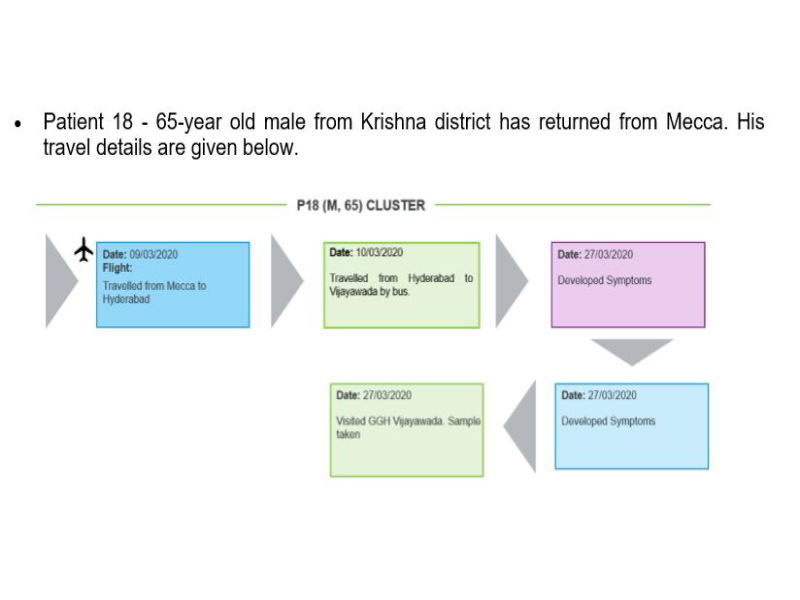 5. Patient 19: is a 23-year old man from Kurnool district who has returned from Rajasthan. The 23-year-old had reached Secunderabad on March 18, and travelled to Kachiguda via MMTS on the same day. The next day, on March 19, the man travelled to Kurnool via Venkatadri express, and went from Kurnool to Nossam by bus. He took the DMU train and travelled from Nossam to Kadapa on the same day, and travelled from Kadapa to Produttor via bus. He took another bus from Produttur to Jammalamadugu. He began to develop symptoms on March 24.
The state has kept more than 29,000 foreign returnees under surveillance, as a precautionary measure against further spread of COVID-19. 179 people have been admitted in the hospital.West Godavari district has the highest number of people who are kept under surveillance at 4,187 people, while Vizianagaram recorded the lowest at 488 people. The state has tested 496 samples, according to the latest health bulletin.