French President's message on Twitter congratulating India on acquiring Rafale Jets is FALSE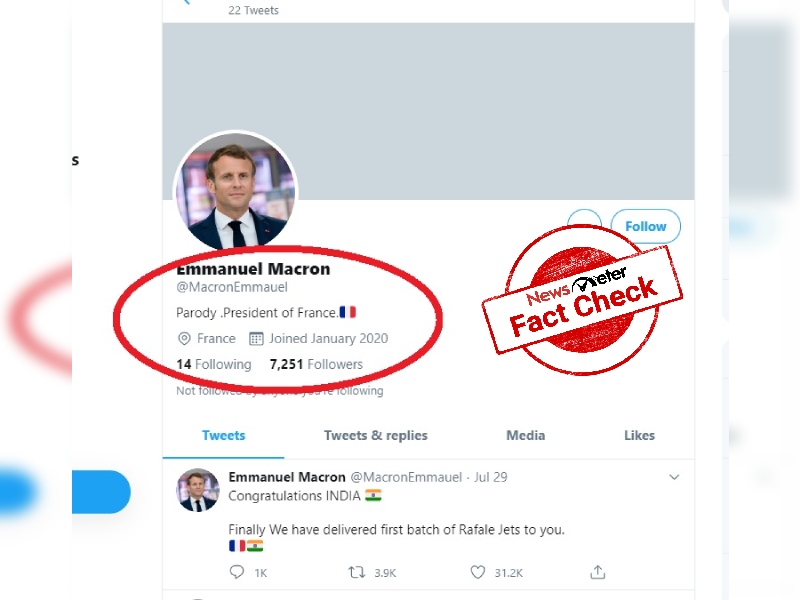 Hyderabad: A profile by the name, Emmanuel Macron, the President of France, tweeted "Congratulations INDIA. Finally, we have delivered the first batch of Rafale jets to you" is circulating on Twitter.
As soon as the Rafale jets were delivered to India, on July 29, a tweet on social media by French President Mr. Emmanuel Macron congratulating India began trending. The first five Dassault Rafael jets of the total 36 ordered by India landed on at Ambala on July 29.
Fact Check:
The claim that the President of France has congratulated India for acquiring Rafale jets is FALSE.
In order to check whether this post was genuine or not, we tried searching with the keywords of "Emmanuel Macron" on Twitter and found two profiles with the same profile picture of Mr. Emmanuel Macron.
One has Twitter's official account symbol and the other one doesn't. The official account of Emmanuel Macron does not contain viral content.
The tweet on his official account on July 29th is
When searched the account which shared the viral message, we found that it mentions the 'Parody account' in its description.
This tweet has come to light as the Rafale jets landed in India on July 29.
As per the Airforce Technology website, "Rafale is a twin-jet combat aircraft manufactured by the French company Dassault Aviation and is capable of carrying out a wide range of short and long-range missions. It can be used to perform ground and sea attacks, reconnaissance, high-accuracy strikes, and nuclear strike deterrence. The aircraft was developed for the French Navy and French Air Force.
Fighter aircraft were used in combat operations in various nations, including Afghanistan, Mali, Libya, Syria, and Iraq. Egypt, Qatar, and India also ordered the aircraft.
Rafale combat aircraft was exhibited at Langkawi International Maritime and Aerospace (LIMA) Exhibition in March 2019.
The Rafale entered service with the French Navy in 2004 and the French Air Force in 2006. Ten aircraft are operational on the Charles de Gaulle aircraft carrier".
Hence, the claim that Emmanuel Macron congratulated India for acquiring Rafale jets is FALSE.
Claim Review :
French Presidents message on Twitter congratulating India on acquiring Rafale Jets
Claimed By :
Social Media Users