Hyderabad: N Lakshmi, a martial arts expert from Hyderabad, has been appointed as the Lady Brand Ambassador of High Range Book of World Records, South Region (India). It is a token of respect towards the service she has been doing for the last 25 years as a martial arts expert and a teacher.
Speaking to NewsMeter, Lakshmi mentions that this is a proud moment. "I feel pleased. I would say it's the result of 25 years of my hard work. I feel even happier because I didn't ask for it. They recognised my talent and hard work to felicitate me with this honour. I have been setting a few records with them from the last four years."
She has set a few records through her various efforts. She had trained around 24,000 people in Warangal. Celebrating SHE Team's first anniversary at People's Plaza, where she taught 2,500 girls, 2,200 of them went on become inspectors. It is a record by itself. Later, she trained 13,000 girls for a month as they performed on the National Girl Child Day, under the guidance of former IAS Devasena.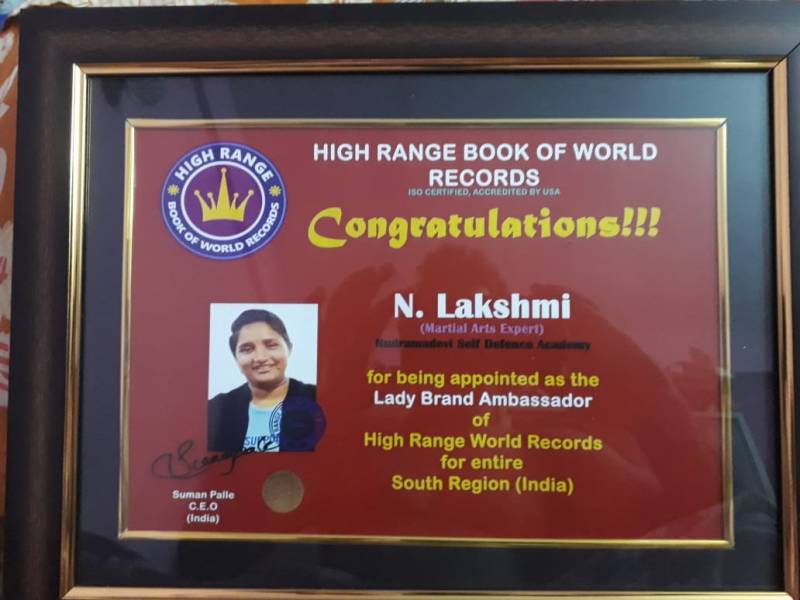 Speaking of her Rudramadevi Self Defence Academy, she said, "Rudramadevi has been an inspiration to me ever since I read about her during my childhood. She fought her enemies when there was no modern technology. Doing it now is different. She has been an ideal example of strength, even for her time. That's why I named the academy after her."
She had planned this around 15 years ago, and its implementation has increased during the last five to six years. Before this, they used to go to schools and colleges and teach girls. "We opened the academy about ten years ago. Through Rudramadevi academy, we train girls from schools, colleges, female IT employees, housewives, and Anganwadi teachers," Lakshmi added. They have been much more active during the last five years mainly with the introduction of SHE teams.
Speaking of her journey in the last 25 years, Lakshmi said that she gained interest in martial arts when she was in class V. "My parents always encouraged me, especially my father. He always told me to become a police officer. Whenever I saw a police officer, they taught me to salute them. I then decided to become a police officer but couldn't," she added.
When she was in class X, a classmate used to tease her. She explains that back then it meant that a guy eve-teasing would end up in the woman crying. "While it was so, I always wondered about why a woman couldn't give it back to men. During the same time, I watched 'Kartavyam' by Vijaya Shanti garu. After watching it, I wanted to learn martial arts."
Ever since then, she learnt martial arts and won district, state, national and three international medals. Lakshmi notes that in this process, she missed the SI selection twice.
"At the same time, I got the opportunity to train police constables under the leadership of former DGP Aravinda Rao. He had called me to Anantapur, as there was no discrimination between men and women. There was no turning back from there, and ever since then, I have trained thousands of officers. As of now, we even train IPS and IAS officers," she mentions, proudly.
Lakshmi had evolved from a woman who wanted to be an SI, to training thousands of them. Speaking about her future, she said that if the government were willing to help, she would take her academy to different regions and help more women learn to fight for themselves. "I wish that there shall be no fear, suicides and depression with regards to women protecting themselves. Self-confidence is the most important thing. Self-defence is very important to every woman of any age," she said, as a message to all women.