Hyderabad: The recently formed, Manikonda municipality which is grappling with problems, will soon face elections giving the candidates contesting a tough time.
Drainage issues, water scarcity and bad roads are few of the civic problems that the Manikonda municipality residents are currently facing. The residents say that the municipality now is not taking up new projects as Model Code of Conduct is at the place and their pending complaints are not being resolved.
The drainage pipe, which always leaks
From the past six months, Alkapoor township's open plots are being filled with drainage water. The drainage water has now occupied seven plots in Alkapoor Township, said Manoj Kumar, a resident of Alkapoor. "We have been complaining from past so many days now. When we complain, they come, and they usually do some patch work but the issue is not completely resolved. After few days, the drainage pipe starts leaking again and the water finds its way towards the open plots."
Manikonda Municipality's Assistant Engineer Vithobha says, "The residents told us that they would take up the work themselves, so we had permitted them, but if they complain to us again about the drainage issue, we will go and solve it. We will probably start working on the drainage issue within two days."
The poorly built roads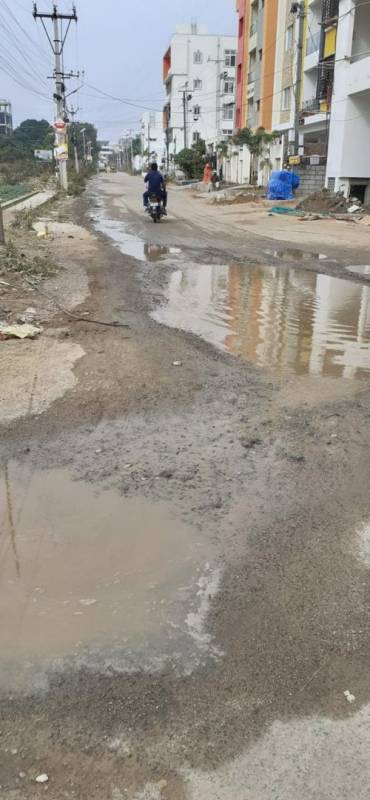 G Rajashekar Reddy, another resident of the township, says, "The problem of underground pipes getting damaged is because of the badly built roads. Not only is the drainage is not well built, but the roads are also of poor quality. When heavy vehicles pass through these roads, they put pressure on the underground drainage pipes and they get damaged. Moreover, the municipality doesn't yet have the proper machinery to remove the stagnant water in the plots, so they fix the pipes but the stagnant water remains in the plot. The water also flows into roads, making it difficult for the citizens to walk or drive on the roads."
No drinking water connection from the past six years
Apart from these issues, Alkapoor Township doesn't have drinking water connection from the past six years. The residents organized 3K run to address the water scarcity, in November 2019. The children in the colony also wrote letters to Telangana Chief Minister K Chandrasekhar Rao, Governor Tamilisai Soundararajan, and M Dana Kishore MD of Hyderabad Metropolitan Water Supply and Sewerage Board (HWSSB). Still, no significant action has been taken yet, says the residents.
The Manikonda municipality, in November 2019, came up with an online grievance register portal. Manoj says, "From Alkapoor itself we have registered, around 300 complaints in the portal till now, but the complaints are still under process."
Neknampur, Puppalaguda and Manikonda are the three areas which come under the Manikonda Municipality, which was formed in March 2019.