Hyderabad: Air passengers travelling via Hyderabad can bid bye to the tiring pat-down searches and handheld scanning at the airport. In accordance with the directive given by the Bureau of Civil Aviation Security (BCAS), Rajiv Gandhi International Airport (RGIA), Hyderabad commenced a three-month trial of a Full Body Scanner for passengers.
As a part of the trial phase, one body scanner has been deployed at the Express Security Check Lane at the Domestic Departures Terminal. Upon successful completion of trials, Body scanners are expected to be installed across the domestic terminal for security check.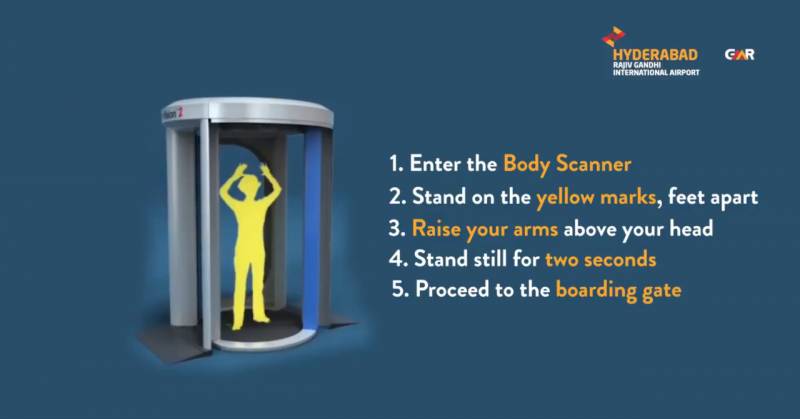 An RGIA spokesperson said, "Body Scanners operate on SAFE Radio Wave Security System, which is an image-free scanning technique, and hence is completely harmless and poses no threat of privacy infringement. The Body Scanner's trail at Hyderabad International Airport is voluntary and so far has received positive reviews from passengers."
While handheld and walk-through metal detectors cannot detect non-metallic explosives and weapons, Full Body Scanners can flag both metallic and non-metallic items that cause security threats.
Apart from Hyderabad, airports in Bengaluru, Mumbai, and Pune also installed Full Body Scanners on a trial phase. Centre has meanwhile directed 84 airports across the country to install Full Body Scanners by 2020. At the same time, many airports in European countries and the United States of America are already using Body Scanner for security check.