Hyderabad: The Hyderabad police have busted a 4-member gang for cheating nearly two thousand people through an illegal lucky-draw scheme. The fraudsters ran out of luck after a winner approached the cops.
The gang collected money for the scheme, named 'LUCK', through a company called Evergreen Enterprises. It mostly targeted daily wage labourers and credulous people, promising them expensive household goods and vehicles.
A team from the Commissioner's South zone task force raided the company at Meet Sagar Ansari Road, Kalapathar, on Saturday. They seized Rs 12,62,000, a computer monitor, printer and chance coins from there. The conmen have been identified Mohd Abdul Hafeez, Syed Farooq Ali, Mohd Azher Ali, Syed Ghouse and Syed Gulam Dastagir.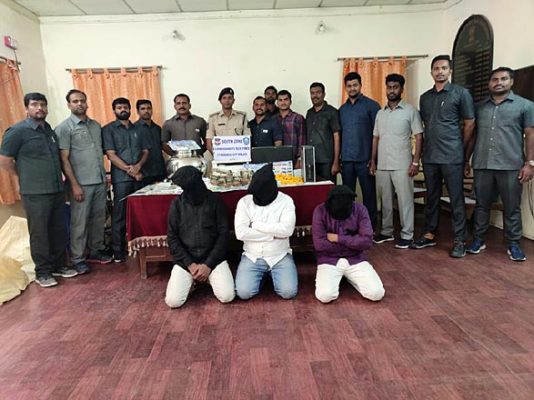 The police said one Obaid Ali Khan lodged a complaint against the company on January 29. The complainant said the gang circulated booklets and pamphlets asking people to contribute Rs 1,000 for 14 months.
Under the scheme, a lucky draw would be held on the 23rd of every month to pick 15 winners. The gang promised cars, Royal Enfield bikes, Honda Activas, Motorcycles, fridge, ACs, TVs, washing machines, gold, silver and cash to winners.
To ensure steady collection, the gang had a rule that only those paying regularly would be eligible for the lucky draw. They also falsely claimed about having all permissions to run the scheme. The gang had hired at least 33 agents to promote the scheme and collect money from the members. The agents would also show urgency on the pretext that the scheme could accommodate only 3,000 members.
Obaid Ali said he paid for 12 months. Nearly, 1500-2000 members joined the draw and paid regularly, but nobody got anything in return. It was also alleged that the gang allegedly created fake members so that they could 3,000 tokens during the lucky draws.
The police said the accused issued receipts to members and held the draw at Shah Functional, Kalapather, where they selected 15 people as lucky winners. However, the gang did not hand them over the prizes as mentioned in the booklet.