Hyderabad: Greater Hyderabad Municipal Corporation (GHMC) has slapped a fine of Rs 5,000 on Minister for Animal Husbandry, Fisheries and Cinematography Talasani Srinivas for putting up unauthorized hoarding at Necklace road circle in Khairatabad.
A few days back, the minister had put up a huge signpost featuring him with Telangana Chief Minister K Chandrasekhar Rao and Minister of MA & UD K T Rama Rao, at Necklace road. The hoarding also contained the text 'Happy Birthday sir, We Love KCR'. Earlier, the minister KTR had issued instructions to all party members and public to refrain from erecting flexes and hoardings in the city, citing danger to the public.
Acting on the complaint of social activist Galibe Vishal, GHMC issued an e-Challan to the minister. However, no action has been initiated to remove the hoarding from the site.
"I have spoken to C Malan, Assistant Engineer in Advertisement department at GHMC. The officer has assured me that the AMOH Khairtabad will remove the hoarding at the earliest," said Vishal.
The complainant alleged that the minister has also encroached HMDA property "In fact he also damaged a few plants for putting up the hoarding," he said.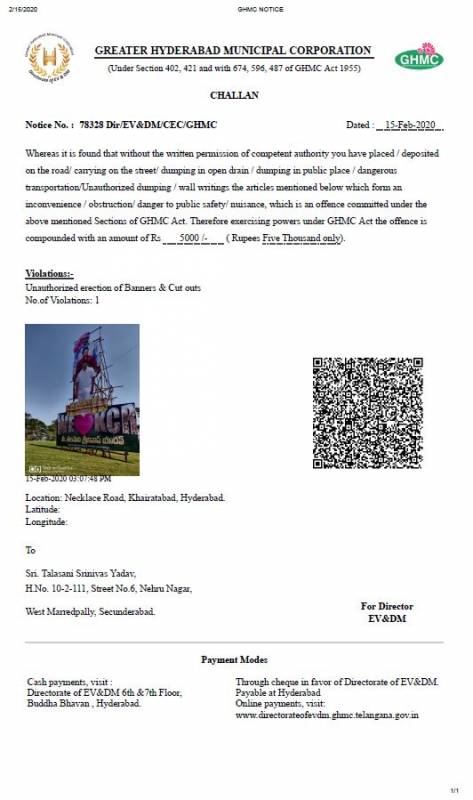 Earlier Vishal had also filed a complaint against All India Majlis-e-Ittehadul Muslimeen for putting up illegal hoardings at Mecca Masjid in Charminar. However, no action has been taken against the party till date, he said.
"Till now, GHMC has not responded to my complaint. I have met Mr Suresh, who is the Assistant Engineer in Advertisement Department, Charminar Zone, and discussed the issue with him" Mr Vishal said.
Meanwhile, the minister replied to the complaint on Twitter and said, "Paid through cheque."