Fact Check: Girl who cycled 1,200 km to take her injured father home was not raped, murdered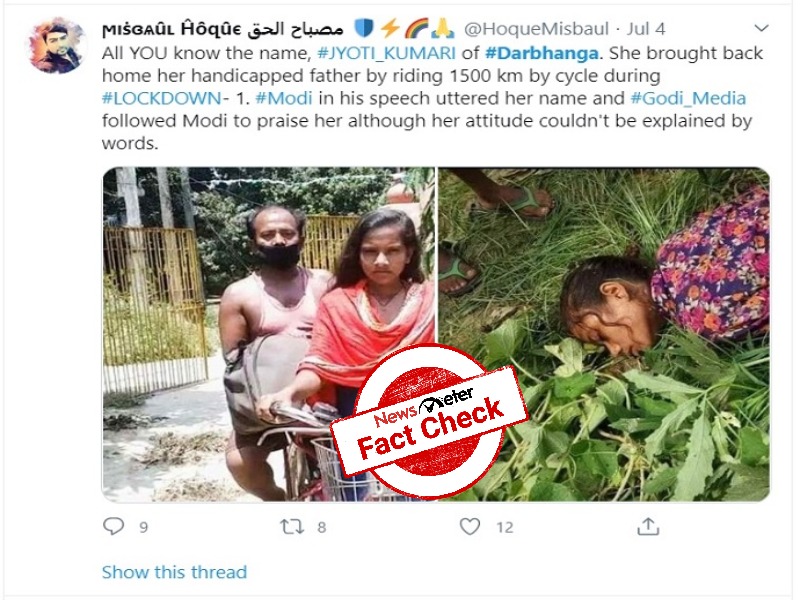 Hyderabad: Rumours are being spread on social media that a girl, Jyoti Paswan of Darbhanga district of Bihar, was allegedly raped and murdered and that she is the one who cycled his father home from Haryana.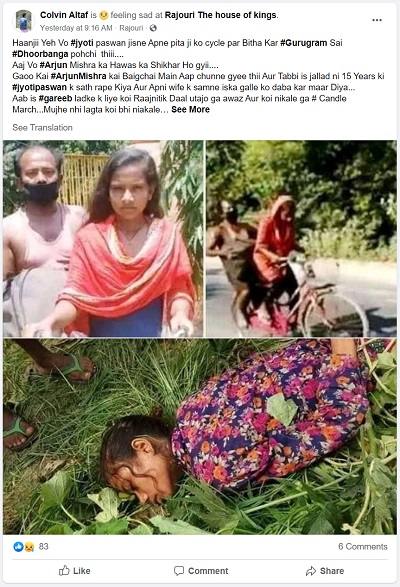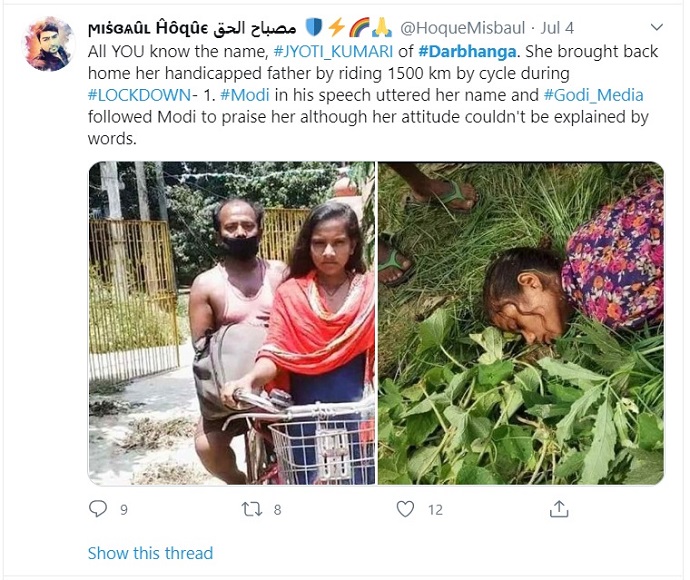 The social media is abuzz with demands of 'Justice for Jyoti Paswan' in the last few days. They believe that the Jyoti who brought her father back to the village on a bicycle is the same Jyoti who was allegedly raped and killed on July 1.
FACT CHECK:
The claim that Jyoti Kumari Paswan who cycled for 1,200 km carrying her father on a bicycle, from Haryana to Bihar was allegedly raped and killed is FALSE.
India remembers the plight of migrant labourers who walked for hundreds of kilometres from their work place to home, during the lockdown due to the Coronavirus pandemic.
Mohan Paswan is one such migrant worker and native of a village beside Sirhulli in Darbhanga district of Bihar. He works as an auto-rickshaw driver at Sikandarpur near Gurugram in Haryana and was injured in an accident. Due to unavoidable circumstances, Mohan's daughter, Jyoti Kumari Paswan cycled to their native place near Sirhulli in Darbhanga district in Bihar for 1,200 km by keeping her injured father on the back stand. They were later put in quarantine at Sirhulli.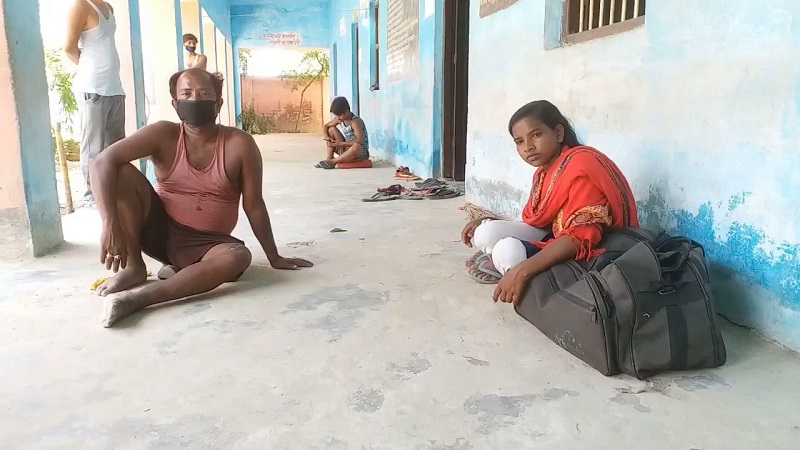 A news report on the feat by Jyoti Kumari Paswan by Zee News:
https://zeenews.india.com/india/gurgaon-to-darbhanga-and-1200-km-15-year-old-bihar-girl-jyoti-kumari-pedals-injured-father-amid-covid-19-lockdown-2285322.html
On July 1, there was news that a girl by name, Jyoti Paswan, was found dead in a mango orchard at Pator village, owned by a man who has retired from the military. The officials said that the girl died due to electrocution but the girl's father, Ashok Paswan, alleged that the orchard owner raped and killed her, for trying to steal mangoes.
One of the news reports on the incident:
https://gulfnews.com/world/asia/india/india-girl-allegedly-raped-killed-for-stealing-mangoes-from-villagers-orchard-1.72376713
Though the names of the above two girls is Jyoti, their fathers are different. Jyoti's father, who was ailing and travelled for 1,200 km on cycle, is Mohan Paswan while the father of Jyoti, who was allegedly raped and killed, is Ashok Paswan.
The Jan Adhikar Party president and former MP Pappu Yadav visited Ashok Paswan and his wife on July 3 and consoled them at Pator.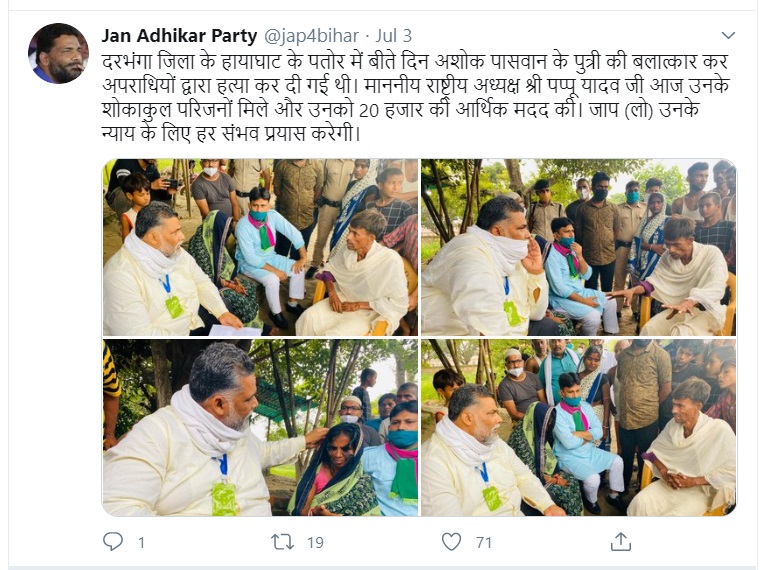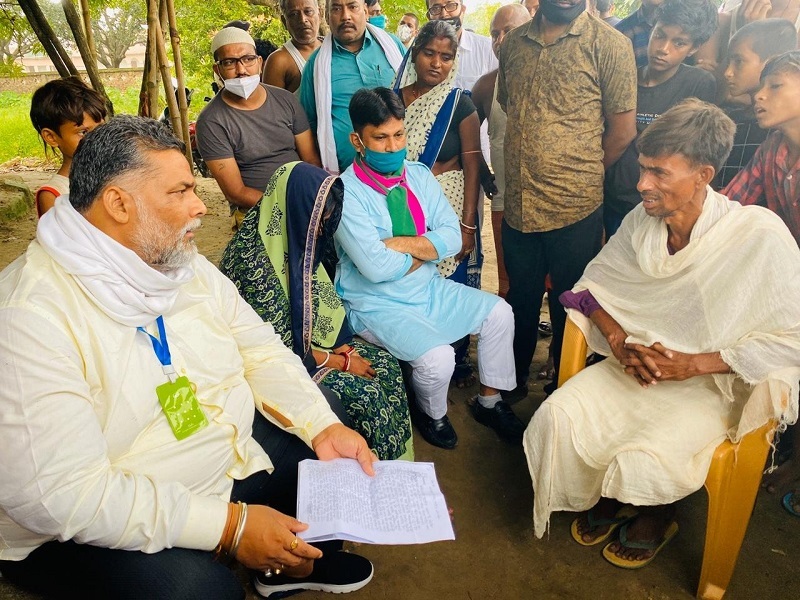 With above pics, we compared the photos of the Mohan Paswan and Ashok Paswan.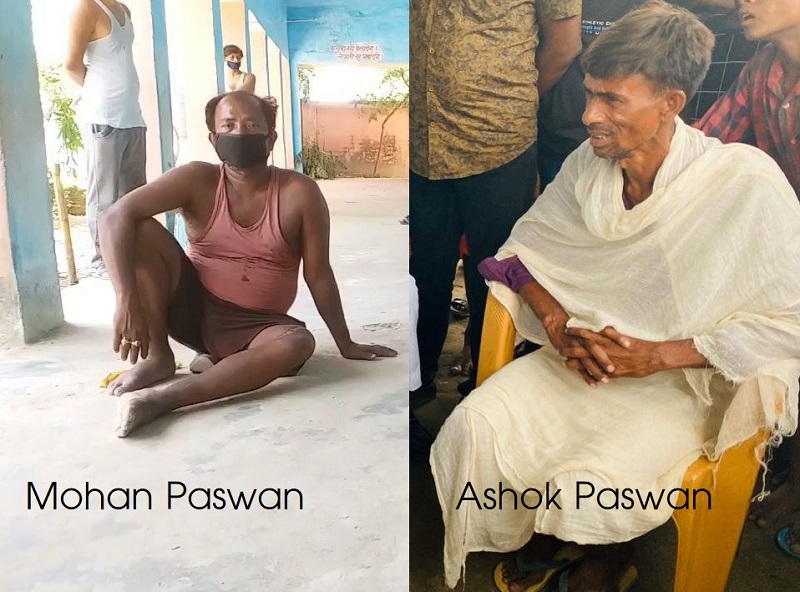 On the other side, a film company is making a movie with the life story of the Cycle Girl and Jyoti Kumari Paswan herself agreed to play the protagonist. The Indian Express reported the same on July 4, a couple of days after the alleged rape and murder of other Jyoti Paswan has happened.
News report:
https://indianexpress.com/article/sports/sport-others/bihar-cycle-girl-turns-down-trial-6425115/
Hence, the claim that Jyoti Kumari Paswan who cycled for 1,200 km carrying her father on a bicycle, from Haryana to Bihar was allegedly raped and killed is FALSE. The victim is another girl and NewsMeter demands justice for her.
Claim Review :
Girl who cycled 1,200 km to take her injured father home was raped, murdered
Claimed By :
Social Media Users