Hyderabad: Located around 70kms on the Hyderabad-Warangal National Highway and 16 kms from Alair village lies Golankonda village in Telangana. Its pre-eminence is that it was the capital of Kolanupaka village. As yet not much explored, it takes one back in time.
There are evidences of Vishnukundinas rule in Indrapala Nagaram (Tummalagudem) where Golankonda was the first capital.
One can also find a carving of a Goddess on the banks of Alair outside Golankonda village which the locals worship as 'Gangamma'. It is customary to call all the gods on the banks of Yeti as Gangamma.
The carving of Gangamma found in Golankonda can be seen in a posture with 12 hands, flame peak, folded legs with the right leg bent till the knees, the right foot leaned on the ground, the left bent till the knees and placed vertically.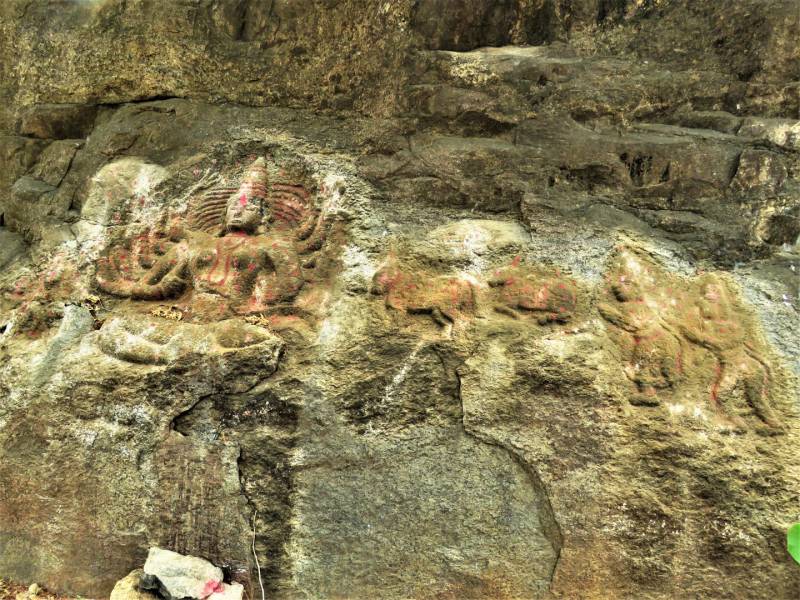 The goddess can be seen with a sword placed in the right hand, a bowl of blood in the left hand, large pots on the ears, a necklace, eyes and a small crown as a vehicle placed below her feet. It makes for a rare sculpture.
Redlawada in the form of Jwaalamalini, two in Bollikunta in the form of Kaalikadevi, three in Edulabad in the form of Devi are believed to have appeared. Similarly, Gangamma temples are more on the banks of River Musi. The culture of worshipping Gangamma sculptures continues to this day.
The Vishnukundinas have built the Rameshwara temple in Golankonda where one can see 6th and 7th century, Maheshwarulu, Kaalamukhulu, Saakteyulu, Lakuleeshulu made to ward of influence of black magic that Jains and Buddhists feared.
(With inputs from Ramoju Hara Gopal, Aravind Arya, Vemuganti Murali Krishna, Chanti, Ahobilam Karunakar, Samaleti Mahesh and Gundu Anjaneyulu).