Hyderabad: With WHO declaring Coronavirus as a pandemic, all nations that have been affected have launched full-fledged precautionary measures.
In India, all State Governments and Union Territories have released helpline numbers in order that people will report any symptoms and for help by contacting the authorities.
The helpline number issued by the Centre is 011-23978046. For Andhra Pradesh, it is 0866-2410978 while for Telangana State the helpline number is 104. For Tamil Nadu 044-29510500, Karnataka (104) and for Kerala (0471-2552056).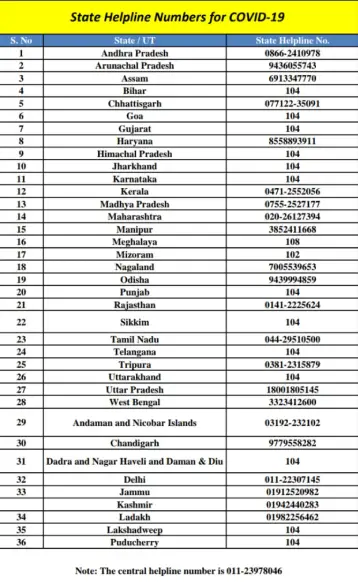 TS, AP patients recovering
Meanwhile, the condition of Telangana's first positive patient admitted in Gandhi Hospital's isolation ward, whose subsequent tests have been negative, is described as 'recovering'.
The condition of the first positive case in Andhra Pradesh is stable and he has recovered. He will be discharged after completion of the 14-day process and once his samples are sent for a second test.