Hyderabad: Fridays for Future Hyderabad, an initiative of youth climate activists of Hyderabad inspired by Greta Thunberg's 'School Strike for climate', will take part in the Global Climate Strike on 25 September, along with over seven million strikers across the world. This is a first-of-its-kind environment strike in India.
However, due to COVID-19, people will not gather in public for the strike. Instead, people will leave their shoes at a place along with their message, as shown in the picture below. More than 1,000 shoes have already been collected from willing Hyderabadis supporting the strike and their demands.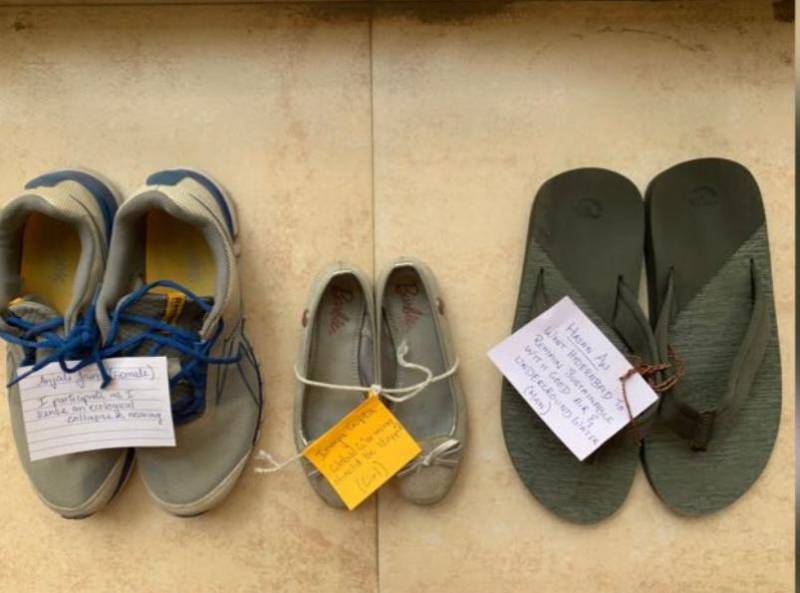 What are the youths and children of Hyderabad demanding from the government?
A representative of Fridays for Future said the Telangana government's concept of development is unsustainable because it revolves around the idea that only humankind deserves to develop at the cost of all other life forms. The problem with this approach is that it destroys the natural topography and well-established functional ecosystems that took aeons to develop in a matter of a few years. This damage is irreversible and will one day make Hyderabad inhabitable.
"Wetlands and forests are crucial to our survival. We cannot keep increasing infrastructure while ignoring ecology. The government has all the tools and funds to restore/conserve these and it is their duty to do so," said Angel Vinod, a 23-year-old student and climate activist.
The group asserts that staying fit won't benefit if we are opening the gateway to more zoonotic viruses like COVID-19.
"Recently, a celebrity endorsed converting a lush green forest into an urban park. This is a cardinal sin because we are forgetting that we are in the midst of a climate crisis and forests are the only solution. Mankind has to mitigate this. Conservation is true development. The only way we can survive is by co-existing with our ecosystems naturally. Let's cherish the key of our existence," said 28-year-old social activist Priyanka Kota.
Make the lakes alive again
"I want my Hyderabad lakes to be blue without any pollution when I grow up," said Busheera, a class V student from Khushbow Vidyaniketan School, Hyderabad.
For these youths and children, the environmental cause is not just for restoration but to make the lost soul alive. "Hyderabad was once a city of lakes with 3,000-7,000 water bodies. Now, barely 100-500 remain. Instead of restoring them and bringing them to life, the government is putting a fence around them and building walking tracks. They beautify it even as encroachment in its catchment area continues to flourish. Let's go boating. So what if we face the threat of drought and farmer suicides as underground water is completely depleted," said a member of the group.
The group also said that it's an irony that Osman Sagar, a heritage lake which completed 100 years in 2020, was built during the Nizam era after the Great Musi river flood of 1908 to prevent future droughts but is barren now even though Telangana is receiving surplus rains for the past three years.
These youth and children want the government and the citizens of Hyderabad to know about the environmental crisis. "The climate crisis and the call for climate justice must not be forgotten. We want everyone to realise the extent of what is happening as climate change unfolds," said Sreecharan Gullapalli, 35, a data science researcher.
"Forests are green, lakes are blue, but concrete and eco-parks don't make them so new. Hyderabad demands its old view," as 27-year-old Arpit put it.
The group is also conducting a fundraiser to organise the climate strike at https://milaap.org/fundraisers/support-fridays-for-future-hyderabad