Hyderabad: Several social media users are sharing a post claiming that Portuguese football player Cristiano Ronaldo is converting his chain of hotels into hospitals to help Coronavirus patients.
In fact, many mainstream media outlets, including Dainik Bhaskar and India Today, published the story after Spanish publication Marca reported it. The article has been deleted from the website Marca.com now.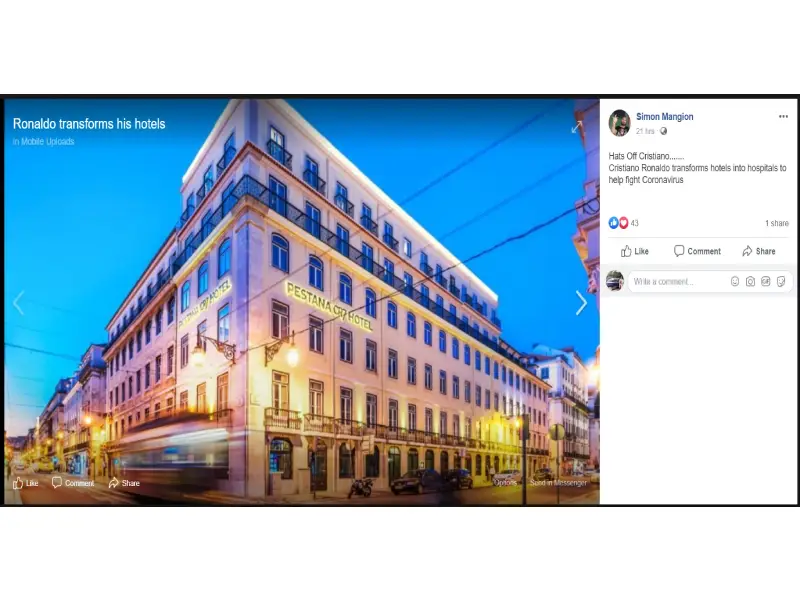 Fact Check:
This claim is FALSE. When asked by the media to confirm the reports, the hotel denied the claims. According to a Dutch TV channel RTL Nieuws and other Dutch journalists, the reports are NOT true.
https://www.rtlnieuws.nl/sport/voetbal/artikel/5057096/hotel-van-ronaldo-reageert-we-zijn-een-hotel-geen-hospitaal
Several media outlets have denied this claim since then.
Though he tested negative for COVID-19, Ronaldo is quarantined at Madeira after one of his teammates, Daniele Rugani, tested positive for the virus. Ronaldo tweeted about the Corona outbreak from his official Twitter handle.
Therefore, the claim that Portuguese football player, Cristiano Ronaldo, has turned his hotels into hospitals to help Coronavirus patients is FALSE.
Claim Review :
Cristiano Ronaldo turned his hotels into hospitals for COVID-19 patients
Claimed By :
Social Media Users