Hyderabad: Srinivas (name changed) last saw his family before he was admitted to Osmania General Hospital's COVID-19 ward. He lost his battle against the virus on 3 July. Abandoned by his family, his decomposing body lay in the morgue for 48 hours. "He is dead and gone, what difference does it make even if we come. You (police) can proceed with the cremation," the family told the cops.
The 38-year-old Srinivas, a resident of the CTO colony which falls under Hyderabad's Hayath Nagar police limits, lost his mother at a young age, while his ailing father is admitted to a private hospital. There was no one to take care of him as he battled the coronavirus at OGH.
An officer from the Hayath Nagar police station told NewsMeter, "The man was six-feet tall and obese. His body had bloated after his death and couldn't fit inside an ambulance. A DCM had to be pressed into service to transport his body to Sanath Nagar for cremation on 5 July."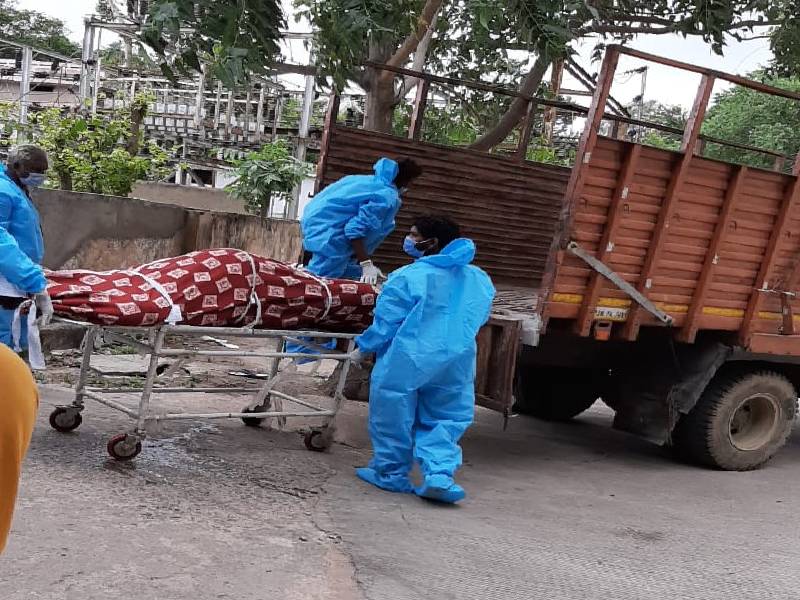 The contractor appointed by the Greater Hyderabad Municipal Corporation (GHMC) to dispose of the bodies of COVID-19 victims had to deploy additional manpower to lift Srinivas's bloated body. "Weight of the bodies increase when it is kept in the open without ice. Also, there is a high possibility of stomach bloating due to the formation of gas. A body is likely to gain up to 10 kgs," said Dr. Ravi Andhrew, a senior nephrologist at the Apollo Hospital, Hyderabad
This is not a standalone case of families abandoning loved ones lost to COVID-19. A day after Srinivas was cremated, cops had to deal with a family from Nacharam who refused to conduct the last rites of the victim. "The ambulance drivers are refusing to transport the body owing to the weight and smell. Some bodies are eaten by rodents. In some cases, we have to pay the driver and four men additional charges of Rs. 700 and Rs. 500 each depending on the situation. They are atleast 3 cases ( unclaimed bodies) every day ," said a source who has been sub-contracted by the GHMC.