New Delhi: It's official. Tigers in India has gone up by 741 in the past four years. While the number of tigers in India in 2014 are 2226 it has increased to 2967 in 2018. Prime Minister Narendra Modi on Monday released 'Status of Tigers co-predators and Prey in India-2018' report based on the fourth cycle of All India Tiger Estimation. From 2006 to 2018 tigers were increased in India at the rate of six per cent per annum.

The census revealed that the tiger occupancy has increased in the state of Madhya Pradesh, and Andhra Pradesh.

" Loss in North East is due to poor sampling. Madhya Pradesh has also registered a substantial increase in their tiger population and along with Karnataka ranks highest in tiger numbers. The poor and continuing decline in tiger status in the states of Chhattisgarh and Odisha is a matter of concern," report revealed. Maoist hit States Chattisgarh and Odisha reported lesser number of tigers indicating difficulties in conservation efforts.

 The tiger survey covered 381,400 km of forested habitats in 20 tiger occupied states of the country.

A total of 2,461 individual tigers  of more than one year of age were photo-captured. Out of 2967 tigers 83% were camera trapped individual tigers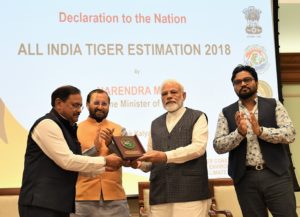 PM Modi on Monday while releasing the Tiger report said
"Broad-based and holistic look is essential for environmental conservation. It is possible to strike a healthy balance between development and environment. In our policies, in our economics, we have to change the conversation about conservation"
Tiger occupancy reduction in occupied areas was due to not finding evidence of tiger presence in sampled forests (20% actual loss), and not sampling forests that had tiger presence in 2014 (8 %). New areas that were colonized by tigers in 2018 constituted 25,709 (28%) km .
This analysis further suggests that loss and gain of tiger occupancy was mostly from habitat pockets that support low density populations. Such habitats with low density tigers, though contributing minimally to overall tiger numbers, are crucial links for gene flow and maintaining connectivity between source populations. The loss and gain of tiger occupancy in these marginal areas is a dynamic process and depends on several factors like proximity of a tiger source population, anthropogenic pressures operating in the landscape, associated change in habitat conditions and protection regime
Minister of Environment, Forest and Climate Change Prakash Javadekar said ,"India is home to 60 per cent of the global tiger population which is reflective of our conservation initiatives which are thoroughly grounded in science and suitable backed by a legal and financial framework,"
Hyderabad Tiger Conservation Society founder Imran Siddique told News Meter "26 is a very optimistic figure, Telangana has emerged as second home for tigers dispersing from Tadoba Landscape (including tippeswar) and NSTR in Andhra. The credit for increase in number should go to Phalguna and Kagaznagar team. 
Amrabad is still lagging behind its potential. Telangana can easily double to population in next 4 years if they focus on tiger conservation in Tiger Reserves and the unoccupied areas of Warangal and Khammam forests"
He added "Andhra Pradesh figure is clear underestimate in fact NSTR is emerging as a Source population (that has 20 breeding females) and regularly supplying tigers to Amrabad and Southern corridors leading to Kadapa and Chittoor. Papikonda is another habitat where presence of tigers has been established but needs lot of interventions to improve the numbers.,"
A commitment fulfilled, that too well in advance!

It was decided to work towards doubling the tiger population by 2022 but India achieved this 4 years in advance!

India is proud to be home to almost 75% of the global tiger population. #InternationalTigerDay pic.twitter.com/t98f2RICE5

— Narendra Modi (@narendramodi) July 29, 2019