Hyderabad: Heavy rains in the wee hours of Friday, left the city paralysed and waterlogged after it recorded an astounding cumulative of 89 mm of rain. An entrance of a guest house of Moti Darwaza collapsed following the heavy rainfall. The structure dated back 400 years ago. Officials say that the rain was triggered by an upper air circulation over Maharashtra, which siphoned moisture over the state thus hastening the formation of rain-bearing clouds.
The sudden downpour in the city witnessed many roads inundated and drains swelled with water. However, things took a turn for the worst for East Anand Bagh and Malkajgiri where substantial damage was noted. Over 14 colonies, with roughly 1,000 houses were evacuated into boats.
More than a thousand people were evacuated from 14 colonies falling in Malkajgiri and East Anand Bagh due to deluge following the collapse of the nala retaining wall. For the first time, the National Disaster Response Force (NDRF) teams brought four boats to evacuate a cluster of inmates from NMDC, Shirdi Nagar and other locations. As many as 170 people approached medical units citing viral infection, fever and additional medical support. Food, milk and water were provided through relief teams.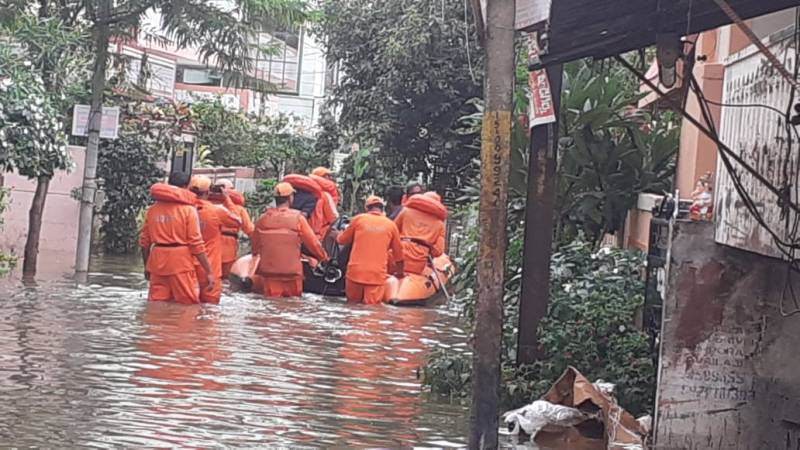 Devnar School for the Blind declared early Dussehra vacation for students following the inundation at school premises. The students, on Friday, were moved to the first floor as the ground level was filled with knee-length water. It took hours for the monsoon relief teams to de-water it. Pedda Cherruvu, Kota and Bandla Cheruvu overflowed into adjacent colonies as well.
Meanwhile, heavy rains over three days have brought the state out of deficit into a surplus. The normal for this time of the year is 74 cm, but the state has exceeded by 3 cm at 77 cm. In the earlier predictions by Indian Meteorological Department, Telangana was likely to receive average or below-average figures. However, this monsoon has surprised many.
"The upper air circulation prevailing over Maharashtra drew moisture from the Bay of Bengal, and that resulted in massive cloud formation over Telangana subsequently ending up as heavy rainfall on Friday. In a fresh forecast, the IMD has announced scattered rain at isolated places over the state. Primarily the intensity is to reduce, said an IMD officer.