Hyderabad: The Indian Metrological Department (IMD) has issued a heavy rainfall warning for several Telangana districts for the next five days. Meanwhile, the forecast for 9 June predicted a thunderstorm accompanied by lightning in isolated places in the state.
Telangana will soon witness heavy rainfall from 10 to 13 June, especially in districts like Mahabubnagar, Narayanpet, Jogulamba Gadwal, Nagarakurnool, Wanaparthy, Nalgonda, and Suryapet, the IMD said.
The director of IMD Hyderabad, K. Nagaratna, said, "The impact of a low-pressure system will aid the onset of monsoon over Telangana and other parts of coastal Andhra Pradesh. Heavy rain is likely to occur at isolated places in Telangana on 10 and 11 June."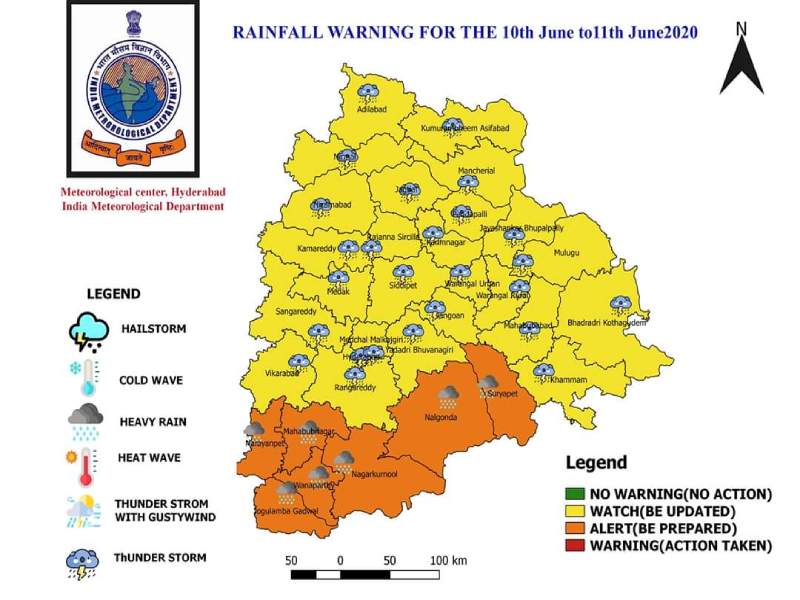 The development of a low-pressure system over the Bay of Bengal is influencing the weather, said Mahesh Palawat, the head of Skymet, a private weather forecasting body. "The well-marked low-pressure area over the Bay of Bengal will move in a westerly direction towards coastal Andhra and Telangana causing heavy to very heavy rainfall in the states for the next two-three days. The ongoing hot weather conditions will soon subside, preparing for the onset of the southwest monsoon," he said.
The IMD said conditions are likely to become favourable subsequently for further advance of southwest monsoon into parts of Maharashtra, Karnataka, and Telangana; remaining parts of Rayalaseema and coastal Andhra Pradesh; remaining areas of Bay of Bengal and northeastern states, Sikkim, some parts of Odisha and Gangetic West Bengal in the next 48 hours.
In Andhra Pradesh, heavy rainfall is likely to occur at isolated places over north coastal parts of the state and Yanam on 10 June, and at isolated places over south coastal Andhra Pradesh and Rayalaseema on 11 June.