Hyderabad: Prime Minister Narendra Modi's most recent Mann Ki Baat video, streamed on August 29th, has received a whopping 5.5 lakh combined dislikes on official Youtube channels, becoming his most disliked video. Since the episode's live stream on Saturday, the video has been receiving flak, especially from students.
A monthly show where the PM discusses topical issues, Mann Ki Baat, is usually looked at as a mode of communication between him and his viewers. It is broadcast every month on two Youtube channels, one that is the Prime Minister's official channel, and the other of his parent party, the Bharatiya Janata Party.
At the time of writing this article, the video uploaded to his official channel has 99 thousand dislikes and 38 thousand likes. On BJP's channel, the video has over 4.5 lakh dislikes and 55 thousand likes.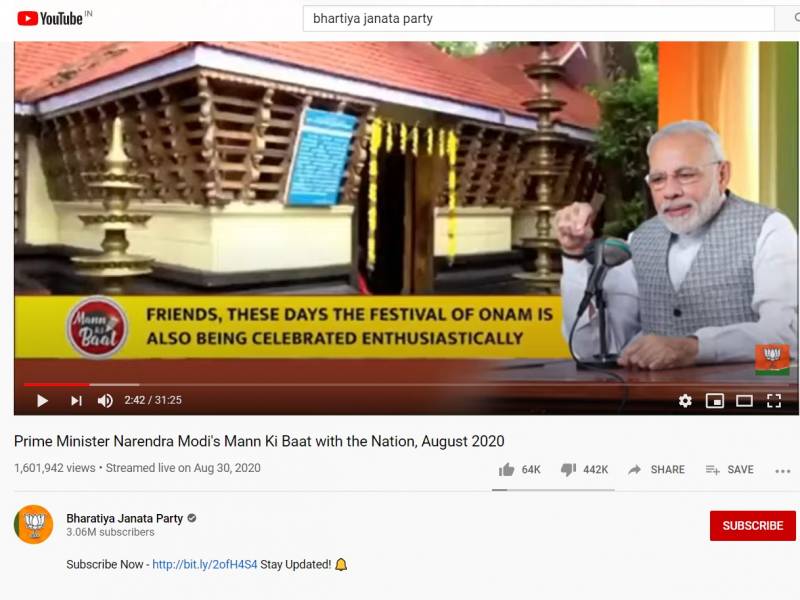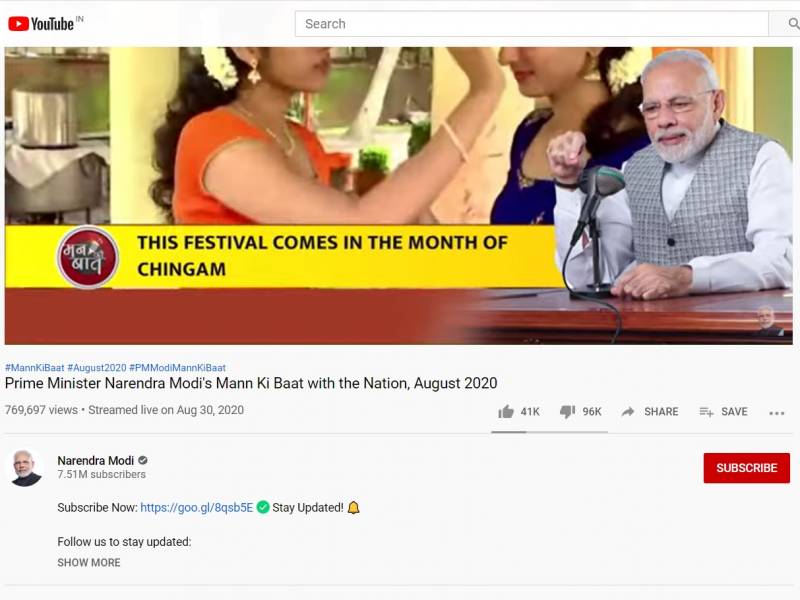 Screenshots of the same are being posted on Twitter with hashtags such as #StudentsDislikePMModi and #Mann_Ki_Nahi_Student_Ki_Baat.
This comes after the Supreme Court recently quashed all petitions requesting a postponement of National Eligibility Entrance Tests and Joint Engineering Examinations. The National Testing Agency has decided to conduct JEE from September 1-6 and NEET on September 13.
Several students also tweeted at the PM requesting exams to be postponed
Govt/NTA/Education Minister will say person got infected due to "ACT OF GOD" or "ACT OF STUDENT" and not because of government conducting exam during pandemic situation.But the truth is it's due to "ACT OF EDUCATION MINISTER"@LicypriyaK#StudentsDislikePMModi pic.twitter.com/aChdX11MNS

— Praneet Kumar (@praneetkpk) August 31, 2020
A 17-year old JEE aspirant has written a Letter today to Chief Justice of India, praying to Postpone #NEETJEE in view of #COVID19 pandemic & flood crisis in our country via @advocate_alakh #postponeNEETandJEE #NoExamsInCovid19 #StudentsLivesMatter #StudentsDislikePMModi pic.twitter.com/m4I085OvES

— 𝗣𝗢𝗦𝗧𝗣𝗢𝗡𝗘 𝗘𝗫𝗔𝗠𝗦 𝗜𝗡 𝗜𝗡𝗗𝗜𝗔 🇮🇳 (@Neetaspirant__) August 31, 2020
The comments section in both Youtube video was also filled with students requesting postponement of the exams to a later date. The also criticised him for not mentioning about student's concerns with the entrance exams.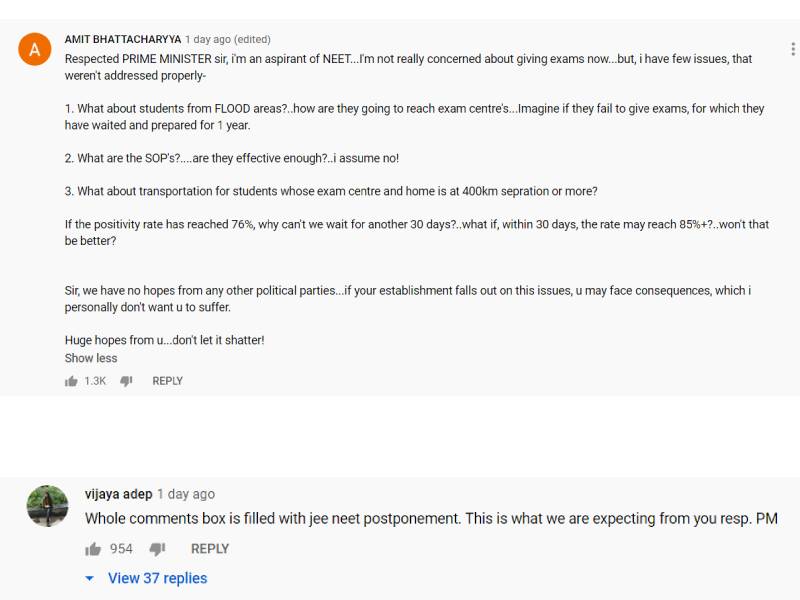 As per Youtube tracker Social Blade, this week's Mann ki Baat is the lowest rated video on both the channels.
The Supreme Court, on Monday, August 17th, dismissed the petition demanding the postponement of NEET and JEE entrance exams and concluded that they would be held in September, as per schedule.