Hyderabad : Hospitals are sitting on an infection powder keg as most of the healthcare workers are ignorant about the guidelines for disposing of medical waste generated from the COVID wards.
The waste generated from the hospitals include sharp accessories (injection needles, medicines bottles, drip sets, pipes) bed sheets, gowns, gloves, tissues, disposable items used by patients.
Central Pollution Control Board has laid out a set of guidelines that need to be followed while disposing of the waste generated from the COVID hospitals.
Doctors at Gandhi hospital, the nodal center for coronavirus in the state, agree that they are not acquainted with the protocols of the waste management.
"Waste management is key at the time of a pandemic. However, not everyone is aware of the proper disposal of waste. Waste needs to be disposed of in a certain way. But unfortunately, even our doctors do not know how to handle it. We are taking the job very lightly," Dr. Alex (name changed) from Gandhi hospital told NewsMeter,
Another doctor from Gandhi said the hospital staff including sanitation workers have not received any training on how to dispose of the waste.
"The administration at Gandhi does things only for publicity. We never received any training in handling the waste. Few doctors have some basic understanding. But nurses, as well as Class third and fourth employees including sanitation workers, do not have any knowledge at all. Waste management is taken lightly," he said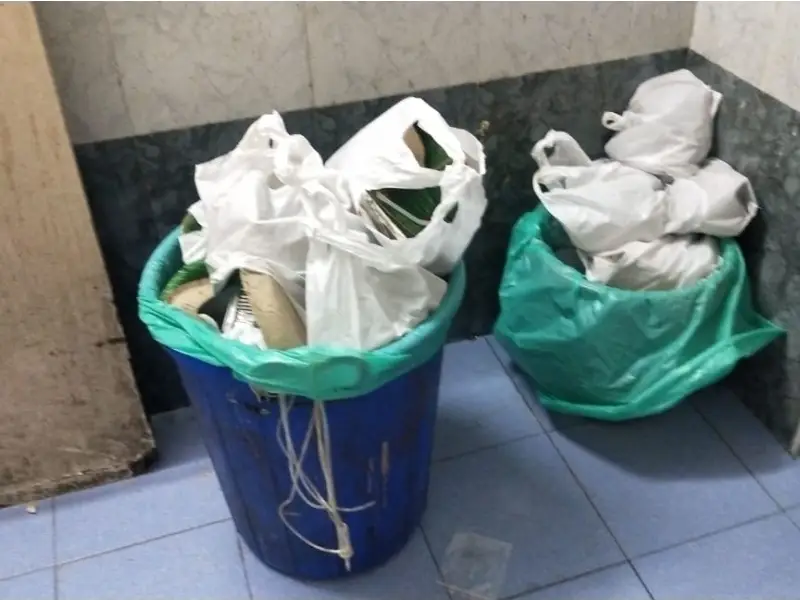 According to the Central Pollution Control Board (CPCB) guidelines, hospitals having isolation wards for COVID-19 patients need to keep separate color-coded bins in the wards and maintain proper segregation of waste, The guideline also includes using double-layered bags and mandatory labeling.
However, the doctors and sanitation workers at Gandhi admitted that there are no separate dustbins in isolation wards for COVID-19 patients.
Vishnu (name changed), one of the sanitation workers at Gandhi told NewsMeter that the isolation wards have only green color dustbins.
"COVID patients dump all their waste in that single dustbin. There is no segregation happening. Doctors only have four dustbins. Red for non-biodegradable waste, yellow for cotton, white for needle and blue for dry waste as usual," he said.
Lack of awareness and ignorance about waste management is putting the sanitation staff at grave risk. "The safety gears are being provided to us daily. Nothing else has been told to us," said Lalitha (name changed), another sanitation worker at Gandhi.
Nodal Officer for coronavirus at Gandhi, Dr. Prabhakar Reddy dismissed the allegations. He said the job has been assigned to a private agency.
"A private agency is taking care of the medical waste disposal. After every six-hour, waste is being collected from the hospital. We have provided yellow and red dust bins in every isolation ward in Gandhi," he said