Vizianagaram: Hundreds of migratory birds (pelicans) were found dead under mysterious conditions in and around the Chellamnaiduvalasa village in Vizianagaram district. The villagers, apparently upset with the death of the winged guests, have appealed to the veterinary department to launch rescue measures to protect the remaining thousands of birds.
Thousands of Siberian birds arrive in the village in the last week of June to lay eggs. They leave the village in between November and December along with their baby birds. The birds have been visiting the village for the past 10 decades.
The locals never harm the birds and they protect them from poachers. In the past, they have even punished a few people who have harmed the birds. Tourists from various parts of Vizag visit the village to get a glimpse of the winged guests in November.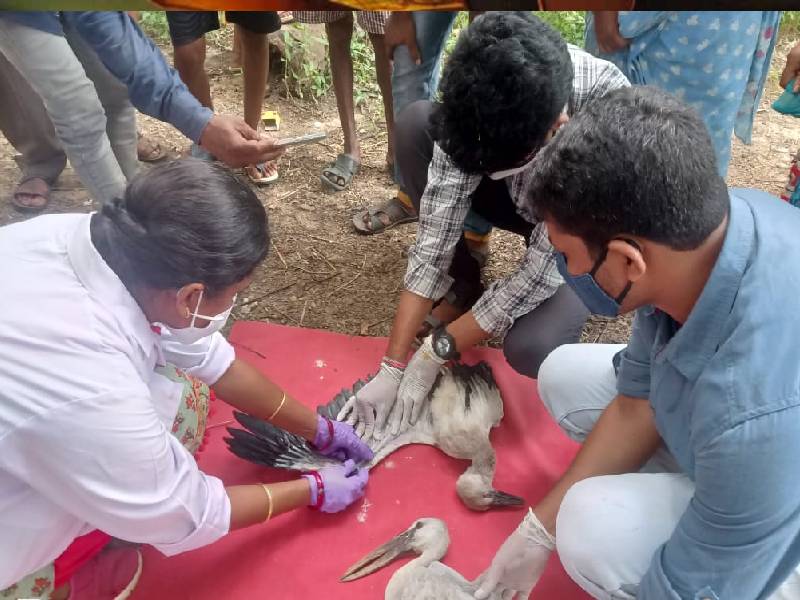 V.P Naidu, a resident of Chellamnaiduvalasa village who has been protecting the birds for the past few decades, said that more than 300 birds were found dead near the village this season. He said some birds died around two weeks ago while some died a few days ago. This is probably the first time that hundreds of birds were killed in the village while most of the other birds are suffering from some illness, Naidu said.
Sensing that something was wrong with the birds, Naidu and his team met the veterinary officials to ascertain the cause of the mysterious death of the Siberian birds and to save the remaining birds.
The veterinary officials, led by surgeon Ch. Lalitha, visited the village and conducted a post-mortem of a few dead birds. They have sent the samples to the laboratory to find out the exact reasons for the death of hundreds of birds.
The locals and officials suspect the birds died after consuming grains laced with pesticides and contaminated fish and snails from the fields. migratory birds