Hyderabad: An activist of the Forum against Corruption staged a protest at the Koti Crossroads against the arbitrary extensions given by the Telangana High Court in connection with writ cases on the occasion of Independence Day on Saturday.
The activist, Vijay Gopal, alleged that the Writ Rules of 1977 of Telangana clearly state that 120 days is the maximum period for anyone to submit their response in the court. However, in contrary to that, thousands of writs and hundreds of PILs in the High Court are pending due to the pending counters not being submitted in the court and the court refusing to give judgements claiming no response or counter by the respondents, the activist pointed out and said it was like a vicious cycle.
— VijayGopal (@VijayGopal_) August 15, 2020
[amp-tweet tweetid="https://twitter.com/VijayGopal_/status/1294515009817518081"]
The activist demanded that the High Court strictly implement the Writ Rules of Telangana State, 1977. He also demanded that no individual or organisation should be given more than 120 days to respond to the cases.
"Thousands of writ petition and hundreds of PILs are pending in the court with the opposite parties not submitting the counters, and the High Court refuses to give the judgement citing lack of affidavit from the other party," said Vijay Gopal of Forum against Corruption.
The activist made it clear that he was not asking for the judgement to be given in a time bound manner as the judgement comes under the court's prerogative. "People should not be given more than 120-day time to respond to an affidavit as per the law. Over 9 PILs are pending since last year as the respondents have not submitted their version," Gopal added.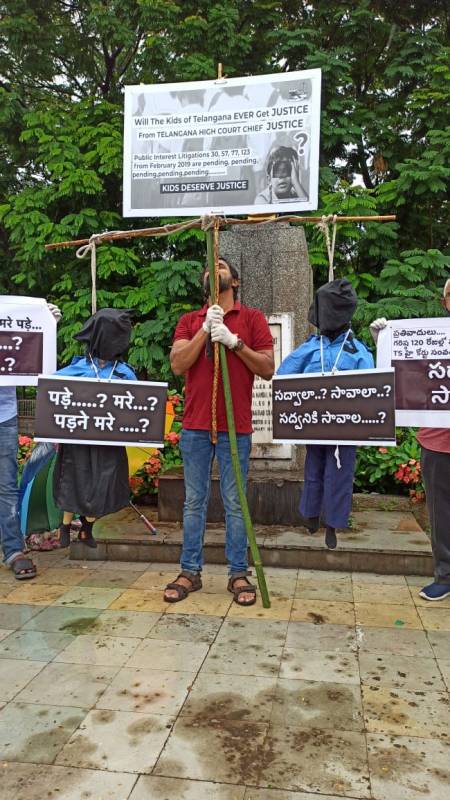 He said that the Telangana court has failed in implementing its own rules and said that their organisation had submitted a representation regarding the same to the Registrar (Judicial) and the Chief Justice of Telangana High Court on July 27.
"This protest is aimed at reminding the court about our representation. Soon, we shall approach the Supreme Court too against the lackadaisical attitude of the High Court of Telangana," said Vijay Gopal.