Selling Red-Bull costing Rs 99 for Rs 289
Charging 5% service charge
Short delivering liquor
Hyderabad: The legal metrology department in Hyderabad served notice and registered three cases against By the Bottle Bar in Jubilee Hills for three violations—selling Red-Bull which costs Rs 99 for Rs 289, charging 5 per cent service charge and short delivering liquor.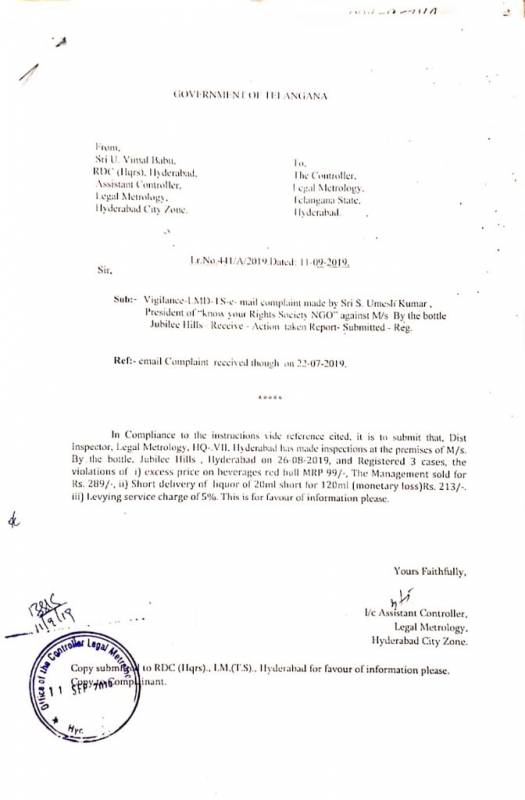 According to Section 18 (2) of the legal metrology (packaged commodities) rules 2011, "No retail dealer or other people including manufacturer, packer, importer and wholesale dealer shall make any sale of any commodity in the packed form at a price exceeding the retail sale price thereof."
Mr Srikhande Umesh Kumar, an RTI activist and president- Know Your Rights NGO and said, "It is common practice in bars and restaurants to sell energy drinks such as Red Bull more than the MRP. As people are unaware of the rules, they are looted by these bars. In addition, many bars and restaurants levy GST on MRP, which is also a violation of GST rules. Service charge is purely optional. No one can force a customer to pay service charge without his/her consent. However, many bars levy a mandatory service charge."
As per the notification issued by the ministry of consumer affairs, food and public distribution (department of consumer affairs) dated April 21, 2017 service charge is optional.
The other violation by the Bottle Bar was they short delivered 120 ml liquor by 20ml. So instead of service 120ml, they served on 100 ml liquor causing monetary loss to the consumer who had paid for 120ml. In bars, liquor is served by the peg which has measures of 60ml, 120ml. Mr Umesh said, "Peg measures should be verified as many bars delivery liquor short of the stated measures."