Hyderabad: Kokkanti Bhavana, a Hyderabad resident, who complained against her IPS trainee husband for allegedly cheating her, finally found relief with the system. Reportedly, the Home Ministry suspended the man, Kokkanti Venkata Maheshwar Reddy. Bhavana, claiming to be the wife of the IPS trainee, filed a complaint with Rachakonda police against him for allegedly cheating her. He had also threatened to kill her.
The suspension order said, "The competent authority has considered the issue and in view of the fact that the aforesaid case is pending for investigation against you (referring to K V Maheshwar Reddy). It has been decided to suspend the offer of appointment dated 2nd December 2019 till further orders." The ministry has also said the suspension orders will be reviewed after getting cleared from criminal charges.
According to the complaint, the couple has been in a relationship since 2009. The duo had registered their marriage in 2018. However, their happy story was cut short when disputes arose between them after Venkata Maheshwar Reddy cleared UPSC. The 28-year-old Bhavana had stated that her husband, an IPS probationer, refused to accept her as she belongs to a different caste.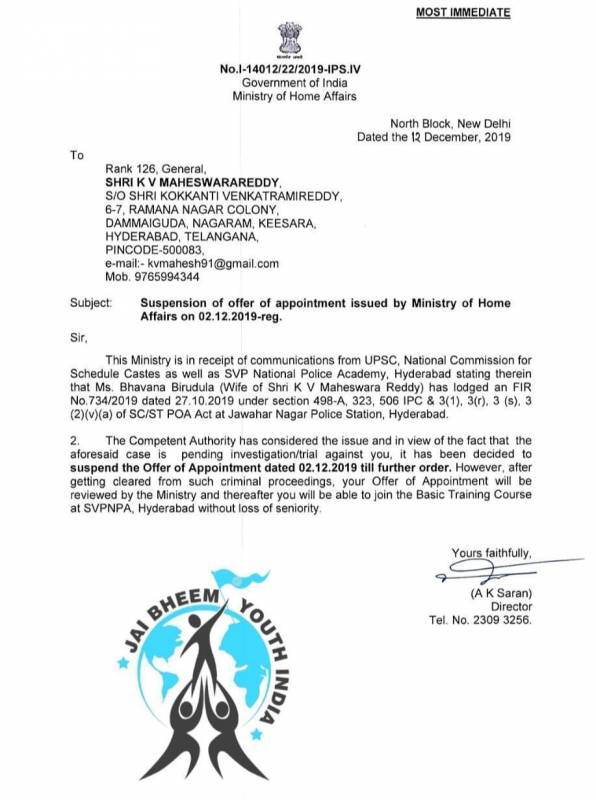 Bhavana Birudala, a resident of ECIL, vented out her emotions on a social blogging site. She said, "My husband is currently undergoing training at LBSNAA, and he is cheating on me with another woman. He is being offered a significant dowry from the marriage proposal."
Bhavana, now a government employee, met Venkata way back in 2009 while they were pursuing engineering from Osmania University, Hyderabad. They have been a couple since then.
Recalling her ordeal, she said, "Venkata and I have been in a relationship for nine years before we married on February 9, 2018. We first met at university. Our association started when he wanted to be friends with me. Gradually he liked me, and later he said he loved me and promised to marry me."
Bhavana added that he had even said that he couldn't live without her. "However, now, he says that he got another match and they are offering him a huge dowry. I did everything possible to support him during his UPSC exam, but now he suddenly changed after he turned an IPS trainee."
She approached the Rachakonda's Jawaharnagar police station, earlier in October. The police advised the couple to sort their issues amicably and directed them for counselling. However, their relationship remained disturbed. A month later, the lady approached the police station and registered a case under 498-A, 323, 506 IPC & Sec 3 (1) (r) (s), 3 (2) (Va) of SC&ST (POA) Act.