Hyderabad: Government jobs have always been in high demand amongst Indians. They offer job security and a comfortable life. While everyone rushes to covet a place in government services, a constable working in the Hyderabad police force has tendered in his resignation.
The 29-year-old constable Siddhanti Pratap, who was stationed at the Charminar police station in his resignation letter, said that he was being rejected by prospective brides.
Writing to Hyderabad police commissioner Anjani Kumar, Siddhanti Pratap who is an engineering graduate and got entered the Telangana police services in 2014. He wrote, "My marriage is being delayed as the prospective brides reject me stating that the scope for growth in my career is less. In addition the job of requires a police official to work 24 hours."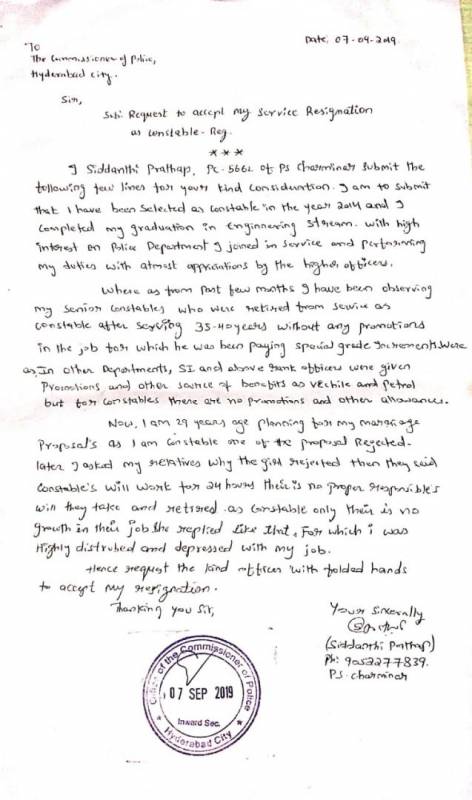 In his letter he also highlighted how senior constables who even after giving 35 to 40 years service retired as constable as there were no promotions. He followed it up by drawing attention to how other departments in the force like those who are of SI rank and above are given promotions and other benefits of the service as vehicle, petrol allowance, which for constables is not there.
While speaking to Newsmeter Mr Siddhanthi Pratap said, "I love being in the police force and I am proud of it, but I am also highly disappointed as there are no promotions making it difficult to survive in a city like Hyderabad. In addition over the last few months I have observed that many girls have rejected my marriage proposal saying that constable jobs have no career growth and promotions and that they only end up working 24 hours a day."
There were days when a government job was more than enough to get married, as it was considered the most secured job in the country. But, these days girls are rejecting low paid jobs even if they are on the government pay rolls, he adds.
Mr Siddhanthi Pratap said, "Girls prefer grooms who have highly paid jobs or are on high posts like an IPS officers. I hope that government listen to our problems and gives promotions to constables so that people like us need not quit the job. If we are assured promotions, I will continue with the job, else I will have to look at other job opportunities."