Hyderabad: Hyderabad girl Srashta Vani Kolli, pursuing Bachelors in Law, bagged a fully paid scholarship of Rs 50 lakh by the University of Wollongong (UOW), Australia. "The moment I realised that I had won the scholarship was very euphoric, and I was unable to express my feeling," said Kolli. She is the recipient of the prestigious 'Change the World Scholarship' provided by UOW.
UOW's School of Law had recently announced the scholarship for students who would like to study at its university. Among thousands of global applicants, the university picked Kolli from India along with a Bangladeshi student as eligible candidates. The scholarship amount is 1.08 lakh AUD, which is approximately 50 lakh in Indian currency.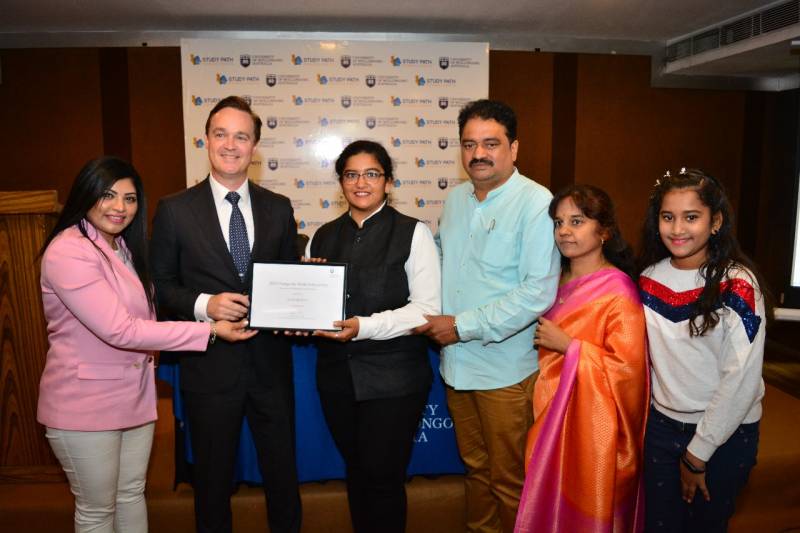 While speaking to NewsMeter, Kolli, who is a poet as well, said, "The university representative who came here narrated a few lines of a poem from my first poetry book. I was surprised that they went through my book." She has published a poetry book titled Wild Wings during her early teens. She noted that her second book would be out soon.
Kolli had applied for the scholarship in May this year and gave an extensive test, as specified by UOW. She said that she had to send a video testimony, saying why she deserves the scholarship. While she was notified in October that she received admission, they declared her eligibility for the scholarship today. The University Manager of International Recruitment Peter Murray had come down to Hyderabad to award Kolli with the scholarship.
She is currently a BA LLB student with Reva University. As she had already completed two years of law, UOW reduced her course duration from four years to two years. Kolli, who is very excited about her time in Australia, says that she will be joining the course in March next year.
Kolli came to know about the scholarship through Studypath, which helped her in getting the same. Studypath aims to bring awareness to many students who are aspiring to study overseas but are not able to afford.