Hyderabad lawyer filed complaint against Telangana CM and Transport Minister for abetting RTC driver's suicide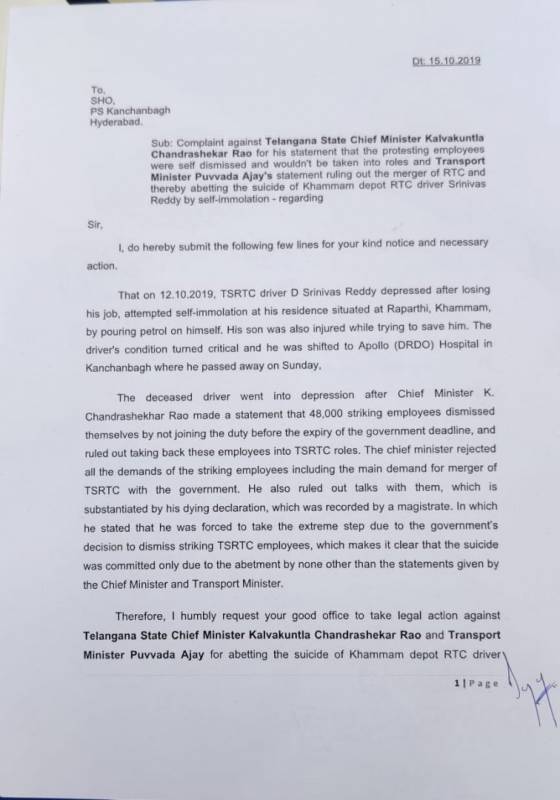 Hyderabad: As the RTC strikes continue in Telangana, a complaint was filed against Chief Minister K Chandrasekhar Rao and Transport Minister Puvvada Ajay. The complaint mentioned that the CM and the Transport Minister drove Khammam depot TSRTC driver D Srinivas Reddy to suicide.
Hyderabad-based advocate K Karuna Sagar lodged a complaint with Kanchanbagh police station, seeking action against KCR and Puvvada Ajay. Karuna Sagar alleged that the ministers' statements that the protesting employees were self-dismissed and also ruling out the merger of RTC with government drove Srinivas Reddy to commit suicide by self-immolation.
Karuna Sagar, in his complaint, stated that Srinivas Reddy was depressed after losing his job and attempted self-immolation at his residence situated at Khammam. His son was injured while trying to save him. The driver's condition turned critical, and he was shifted to Apollo (DRDO) Hospital in Kanchanbagh, where he passed away on Sunday.
The CM had ruled out the chance of taking the striking employees back into TSRTC roles. KCR rejected all their demands, including the merger of TSRTC with the government. The CM also ruled out talks with them, which is substantiated by Srinivas' dying declaration recorded by a magistrate. In the statement, Srinivas stated that he was forced to take the extreme step due to the government's decision to dismiss striking TSRTC employees.
Karuna Sagar requested the police to take legal action against Telangana CM KCR and Transport Minister Puvvada Ajay for abetting Srinivas Reddy's suicide. He urged the police to file a case under section 306 of IPC.
Responding to the complaint, the police stated that a case has already been registered in Khammam II Town police station regarding this and action has also been taken. Regardless, the complaint will be forwarded to the concerned police in Khammam II Town on the point of jurisdiction for additional information.