Hyderabad: The council of Greater Hyderabad Municipal Corporation, passed a resolution against Citizenship Amendment Act (CAA), marking it the first urban body in the country to pass a judgment against the newly amended Act.
Supporting the TRS party-led government's stand on CAA, Deputy mayor Baba Fasiuddin, during the council meeting held on February 8th, introduced the proposal to oppose the amended citizenship Act. The council members later approved it under the chairmanship of Mayor Bonthu Rammohan. However, the resolution was passed orally, and authorities said that a copy signed by Hyderabad mayor and Greater Hyderabad Municipal Corporation would be officially will be available only after three days.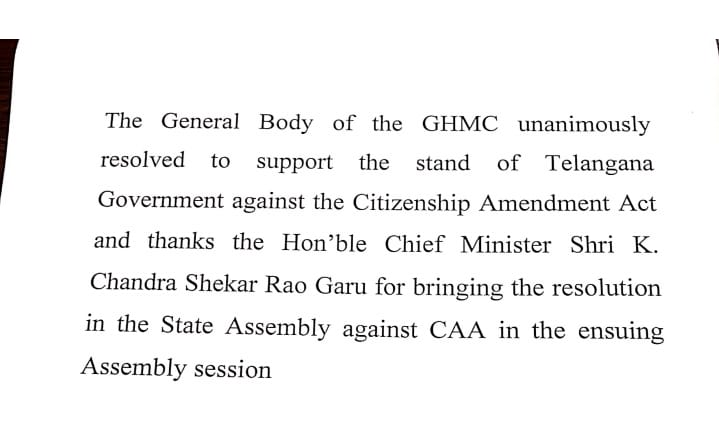 Meanwhile high drama occurred during the council meeting, when AIMIM corporators and BJP corporators entangled into a fight over CAA.
AIMIM corporators dared to obstruct officials entering their respective wards about NPR and NRC exercise. This led to a skirmish between the AIMIM corporators and a hand full of BJP wards members present in the council meeting.
The AIMIM corporators demanded that GHMC pass a resolution against CAA . Though initially the Mayor 'orally' announced the resolution against the NPR and NCR, later he ( Mayor) confined it to CAA. 'The Chief Minister's stand against CAA will be adopted in GHMC area, the Mayor told NewsMeter and avoided questions on NPR and NCR.
Before the general body meeting, a special council meeting was held on Saturday to approve the GHMC budget of Rs 6,793 crore. Though the actual budget of GHMC is only 5,380.64 crore, the authorities included Rs 1,593.64 crore for the double bedroom houses and Comprehensive Road Maintenance Project (CRMP) to amplify the budget.