Hyderabad: Over 20,540 houses were affected due to inundation in Greater Hyderabad and total 122 localities inundated, said the Municipal Corporation.
GHMC deployed 360 Disaster Response Force(DRF) personnel while additional 192 personnel were deployed for dewatering with the machine and 170 personnel for manual dewatering. GHMC deployed 6 boats and 20 JCB machine.
#HyderabadRains :19 dilapidated structures in Hyderabad have been demolished.

GHMC vacated housemates living in
( 14) weak structures.

During this season so far, 154 dilapidated buildings have been demolished and 103
structures are repaired / vacated. pic.twitter.com/eFvgNn1s64

— NewsMeter (@NewsMeter_In) October 14, 2020
[amp-tweet tweetid="https://twitter.com/NewsMeter_In/status/1316368530862870528"]
GHMC identified 61 relief camps in 684 people were accommodate in those relief camps with 30 medical centres.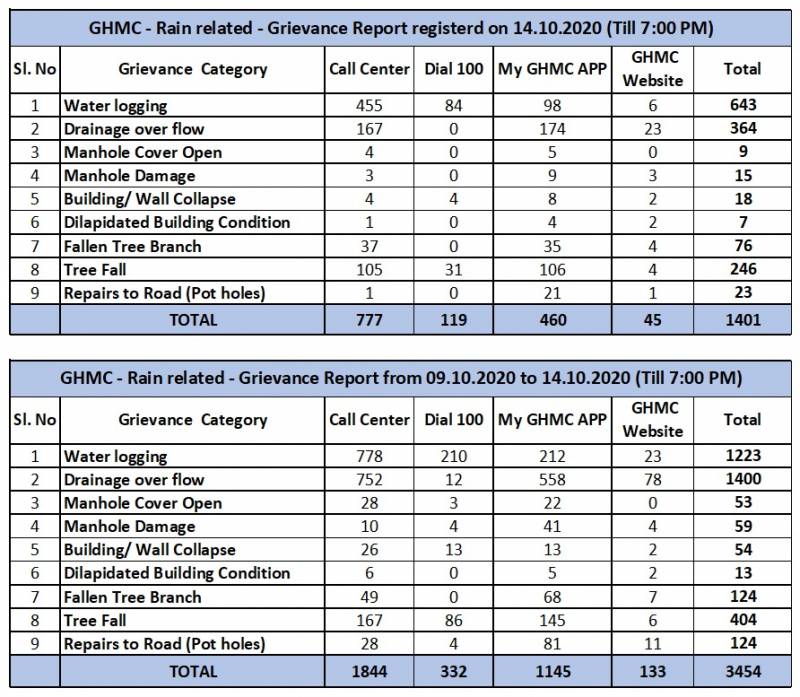 On October 14, total 1401 grievance has been received by the GHMC in which 643, highest was for waterlogging, followed by 364 for drainage overflow and 246 for tree fall.
GHMC also predicted thunderstorm accompanied with lightning and very heavy rains. Average rainfall on October 13 as per meteorological department was 15.5cm.