Hyderabad: Rajendra Nagar Revenue Divisional Officer K Chandrakala has asked slum dwellers to remain alert as Osman Sagar flood gates will be opened at any time.
Chandrakala asked the authorities to take precautionary measures and aware people living downstream colonies and slums about the sensitivity of the situation. The water level of the Musi river has reached an alarming level.
The revenue officer asked the authorities to evacuate families living in low lying areas to safe locations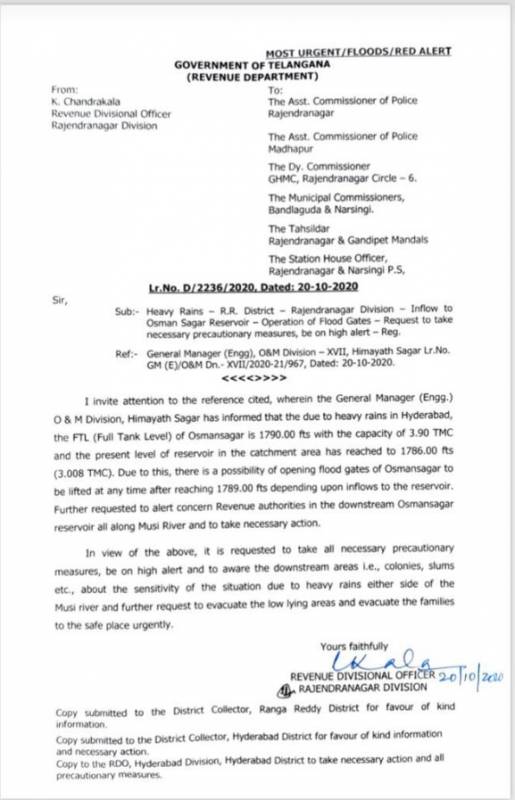 .
Due to heavy rains, the full tank level (FTL) of Osman Sagar is about to reach its full capacity of 1790 feet.
"The present level of the reservoir is in the catchment area has reached 1786 feet. There is a possibility of opening flood gates at Osman Sagar at any time after reaching 1789 feet depending upon inflows," said K Chandrakala, Revenue Divisional Officer, Rajendra Nagar Divison.
Meanwhile, Telangana Chief Minister K Chandrashekhar Rao has asked the official machinery to be on high alert to ensure that tanks and lakes in Hyderabad city are not breached due to heavy rains and flash floods.
He asked the officials to form at least 15 special teams to be formed to examine the tanks in the city from time to time and take the necessary measures to prevent any untoward incident.
The CM also spoke to Principal Secretary of Water Resources department Rajat Kumar and gave the slew of directions.
"Hyderabad received heavy rains which were unprecedented in the last hundred years. This has resulted in heavy floodwater inflows. Besides the floodwater in the city, water from the tanks in surrounding areas also entered the city. All the tanks are overflowing with water. The Met department forecast says there are chances of more heavy rains. Against this backdrop, the entire official machinery should be on a high alert," he said.