Hyderabad Sanitation workers forced to travel in packed RTC buses violating social distancing norms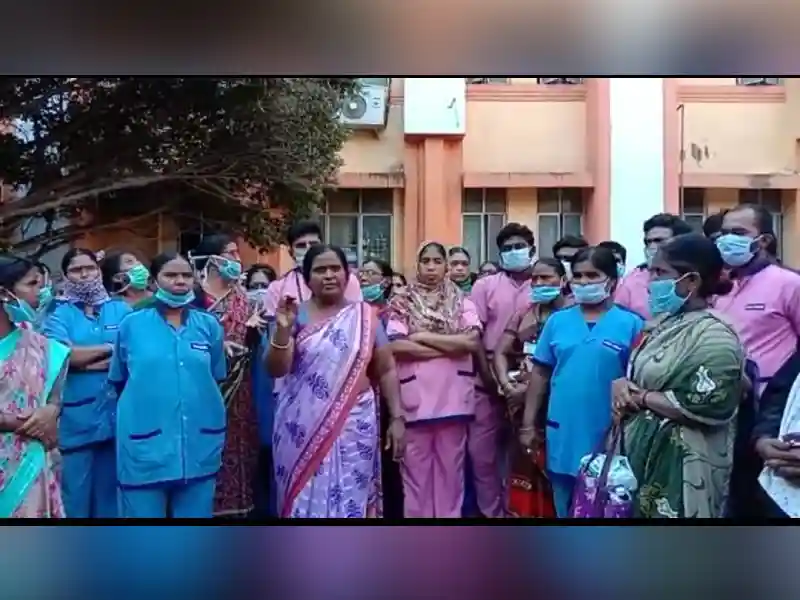 Hyderabad: RTC buses have been arranged to pick up sanitation staff working in state-run hospitals at various pickup points in view of the nationwide lockdown. However, the workers allege that the number of buses is insufficient and they often have to travel in packed buses.
M. Narasimha, the president of Telangana Medical Contract Workers Union (TMCWU), said, "We have to transport more than 160 sanitation workers to Gandhi Hospital alone. At least 120 sanitation workers need to be there for the morning shift. However, there is only one bus from LB Nagar which means they have to travel in crowded buses. These are people who work daily with COVID-19 patients. What social distancing can we expect on a packed bus?"
Police harassing workers
The contract workers also alleged that cops often stop them and threaten them for violating lockdown orders while on their way to the pick-up points.
One of the sanitation workers from Gandhi Hospital, under the condition of anonymity, said, "Buses have been arranged to pick up sanitation workers from LB Nagar, Kukatpally, and Mehdipatnam. Those of us who stay at LB Nagar are finding it difficult to reach the pick-up points. Our houses are in the interior areas and we have to depend on someone with a private vehicle to drop us at the pick-up points which are at least one to two km away. The police stop and harass us. The COVID-19 emergency sticker is of no use. The officers ask us to return home."
The sanitation worker complained that there is a shortage of staff due to the COVID-19 outbreak and lack of transportation is only making it worse. "Due to the pandemic, only those sanitation workers who are below 50 years are allowed to work. For a 2,000-bed Gandhi Hospital, we have sanitation staff for only 1,000 beds which means only 60 per cent workers are on duty. Of these, 165 are women who depend on RTC buses and autos," the worker said.
Low wage and lack of information
The sanitation workers said some of them are now living in nearby ashrams. There are two reasons for this: lack of transportation facilities and fear that their families may contract the virus.
Savithri (name changed) has been working at Gandhi Hospital for the past 20 years as a contract worker. "We are working in the COVID-19 wards and risking our lives. We don't know when and how we might get infected. Nobody has told us anything apart from providing PPE kits. After the lockdown, most of us have become the sole breadwinners in our families. Many have small children and grandchildren. They are being asked not to come to work from their homes. But we need money to feed our families. Many of us have been working here for the past 20 years and yet we still receive a meager amount of Rs. 9,500."
She added, "We work in three shifts. The morning shift, from 7 a.m to 2 p.m, has the highest number of sanitation staff, around 125. The second shift starts from 2 p.m. to 8 p.m. and the third shift is from 8 p.m. to 8 a.m. We are ready to work extra hours but the authorities say COVID-19 protocol does not allow extra hours. After every 10 days, we are supposed to quarantine ourselves."