Hyderabad: The Indian Meteorological Department (IMD) on Wednesday afternoon, July 15th, issued a heavy rainfall warning for Telangana.
While the city has been witnessing rainfall in several areas since morning, the IMD warned that intense spells of rain will be experienced in some areas.
As a result, the bulletin stated, roads will experience heavy waterlogging and traffic congestion.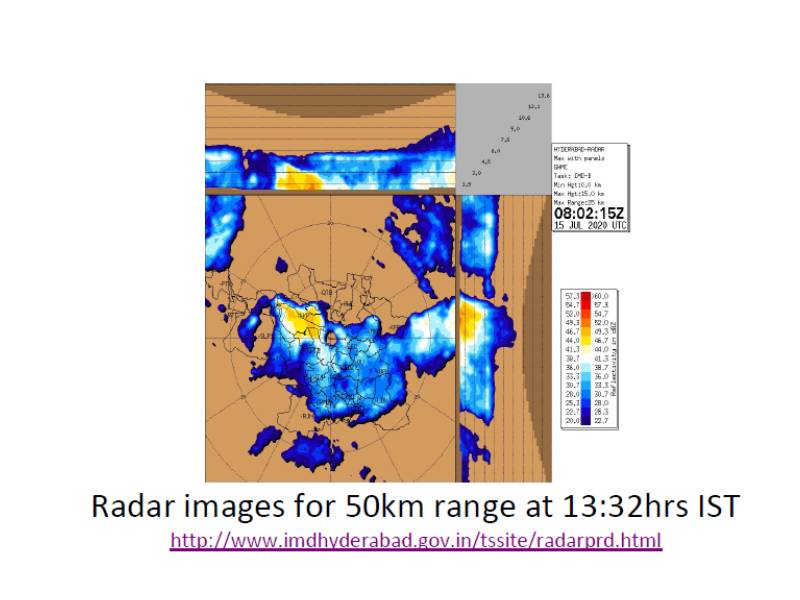 The Meteorological Centre, Hyderabad, further issued an alert stating that the city will experience light to moderate rain or thunder for the next 5 days.
While thunderstorms paired with lightening will only occur at a few places, most places will witness just the former.
The bulletin released by the department also said that heavy rains will likely be experienced in Adilabad, Komarambheem, Nirmal, Mancherial, Nizamabad, Sangareddy, Mahaboobnagar, Khammam, Nalgonda, and a few other TS districts.
The department has predicted thunderstorms on 15th, 18th, and 19th July.
The Greater Hyderabad Municipal Corporation also released a list of the areas that received the maximum amount of rainfall today from 8.30 am to 2 pm.
While Balanagar in Kukatpally received the highest amount of rainfall (76.5mm), Ferozguda Comm Hall (67.0mm), Balaji Nagar (53.3mm), Begumpet (50mm), and GHMC office Kukatpally (49.8mm) followed suit.