Hyderabad: The Telangana government succumbed to pressure from health experts and the public and finally released the district-wise COVID-19 data on 29 September. For months the state had failed to provide data of the total number of active COVID-19 cases and patients discharged in various districts of Telangana.
The data revealed that the Greater Hyderabad Municipal Corporation (GHMC) has the highest number of active cases, 4,029, followed by Rangareddy with 2,291 active cases and Medchal Malkajigir with 2,276 active cases.
Vikarabad has the lowest number of active cases, 242, while Adilabad has only 270 active cases.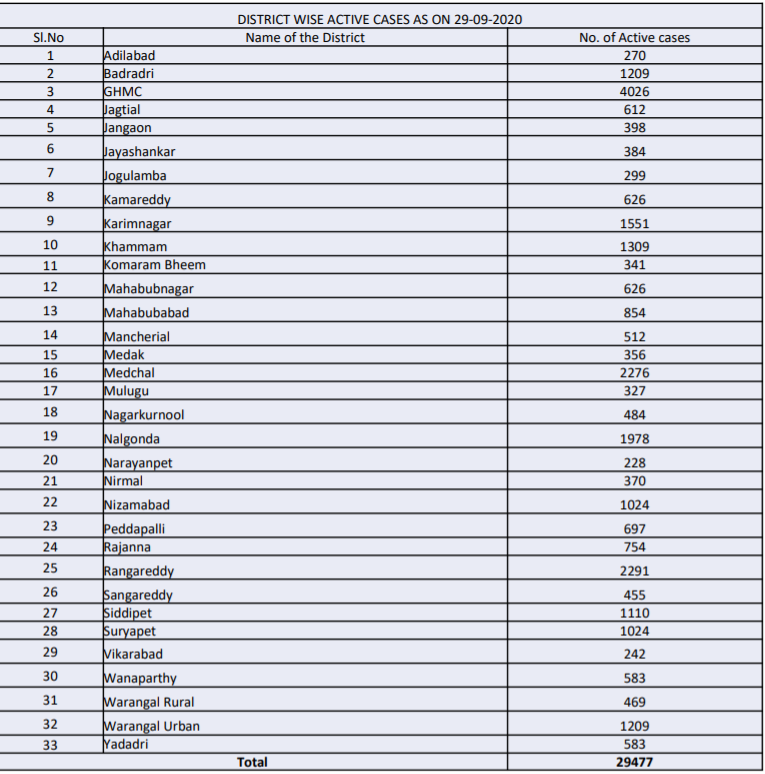 As of 29 September, Telangana has a total of 29,477 (15.42%) active cases, while 1,58,690 (84%) people have recovered from the virus and 1,116 (0.58%) people have succumbed to it.
Since the Telangana government started releasing a comprehensive bulletin, the number of COVID-19 deaths and the number of deaths due to comorbidities have remained the same with deaths due to comorbidities at 53.87 per cent and COVID-19 deaths at 46.13 per cent. But on Tuesday, the state government revised the data. Deaths due to comorbidities rose to 55.04 per cent and 44.96 per cent of victims had no comorbidities.

Telangana has conducted the third-highest tests per million with 79,206 tests which is higher than the national figure of 54,850 tests per million. Telangana is only behind Delhi which has 1,49,443 tests per million and Assam with 94,482 tests per million population.
Telangana's test positivity rate has also come down to only four per cent with an increase in testing in the state. The government said that only 25.40 per cent of beds are occupied in government hospitals and 34.56 per cent of beds are occupied in private hospitals. In private hospitals, around 50 per cent of beds are occupied by patients from neighbouring states.
After groups of people recently gathered at the Durgam Cheruvu bridge which opened to the public last week, the government has asked people to avoid such large gatherings