Hyderabad: Hyderabad traffic police booked 493 cases on Tuesday during a special drive conducted in the city. They held these special drives against violators using improper/irregular fancy registration number plates and fixing black films to their windows.
Among the 439 cases, 381 were booked for improper number plates, and 58 were booked for fixing black film on windows. Hyderabad Traffic Police has booked 87,972 cases against irregular registration number plates and 987 cases against using black films on windscreens, up to October 1, 2019. In the month of August, the traffic police registered 28 criminal cases against those using tampered and illegal numbered plates.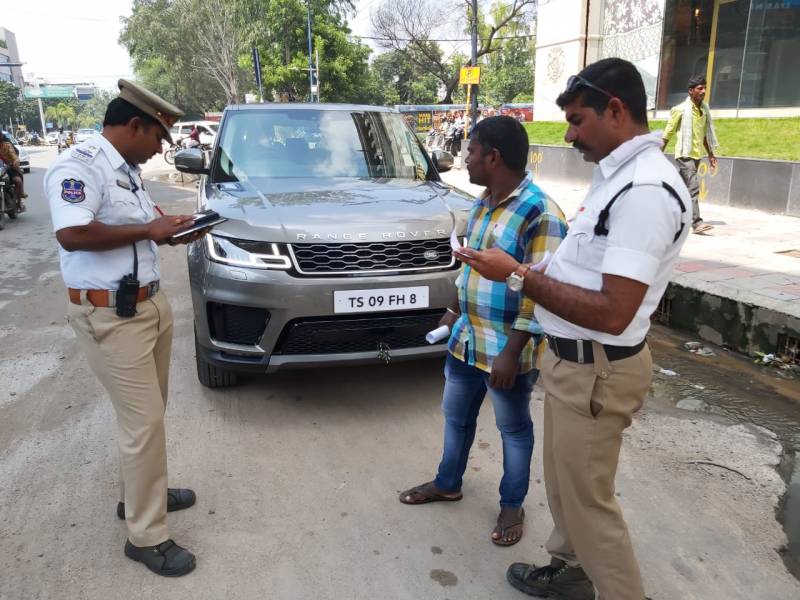 The city police have requested motorists and vehicle owners to use proper number plates on as per the guidelines issued under rule 50, 51 of CMV Rule-1989. Fixing of black film prevents visibility inside the vehicle and is a violation under rule 100 of CMV. Supreme Court had given clear directions to ban the use of black film on vehicles during the case of Avishek Goenka v. Union of India and others.
Hyderabad city police had requested citizens to inform them about any traffic violations through Hyderabad Traffic Police Facebook and Twitter, Traffic Help Line (9010203626) and Traffic Live App to ensure safety and security in the city.