Hyderabad: "If you want a Pochampally Jute bag than bring a Tiffin box for buying Non-Veg" says Hyderabad based activist Ramu Dosapati. A software engineer by profession, Ramu can be spotted near grocery markets and meat shops, with his hand mike.
Ramu has started #TiffinboxChallenge. He urges meat buyers to carry their own tiffin boxes instead of taking plastic bag. He says if all the non-vegetarians in Hyderabad, start using, steel boxes around 20lakh plastic bags will not reach dump yards in a day.
Ramu says, "10 Lakh families go to buy non-veg in Hyderabad on Sundays. I cannot stop them from that; it is a person's wish of what they want to eat. But the plastic that they use to carry this meat, is affecting my health as it is not disposed properly. So I tell them use tiffin box. The meat shops are usually just a kilometre away, so I think, they can carry Tiffin box, which in turn will reduce the plastic waste."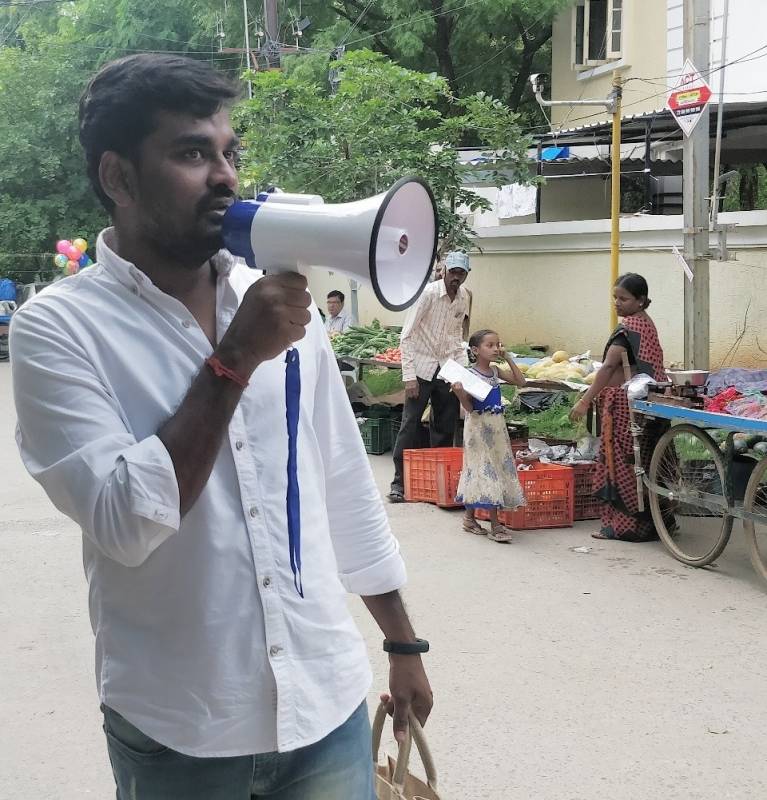 He has been going around with his loud speaker for the past two years, but it was very difficult to attract people and make him listen to what he is saying, so he came up with, #TiffinBoxChallenge. Whenever he finds someone coming with their steel boxes to buy meat, he gives them the uniquely crafted jute bag. He says, "Out of 100 customers only four or five people come with their boxes, so, I think such people should be appreciated and identified, otherwise they will also stop bringing Tiffin boxes."
Ramu with a motive of increasing the number of people carrying Tiffin boxes to buy meat says, "I even deliver bags to people's houses, if they share pictures with me on Whatsapp saying they carried Tiffin boxes, I courier the jute bags to their address."
Ramu ensured that he makes an interesting jute bag, so that the customers are motivated. He says that the bag is made by using Pochampally silk and ittak cloth material. "The jute bag attracts the people and some customers have even gone back to their house and brought jute back, just to get that jute bag," he added.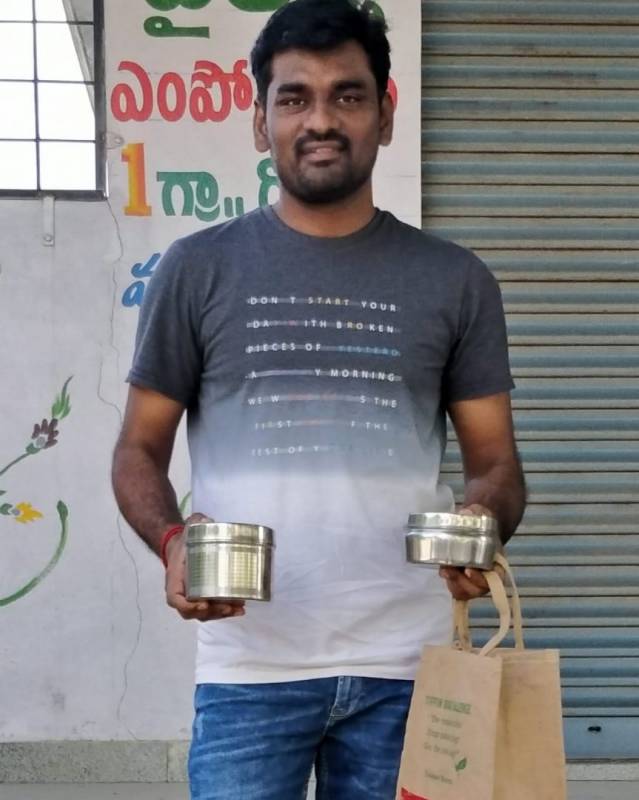 Not only the customers but also shopkeepers are happy as their money to buy plastic bag is saved, says Ramu. "Some of the shopkeepers started supporting me and gave two eggs free to the customers who brought their own tiffin boxes," says Ramu.
He says, "This is not just for non-vegetarians. Even those buying fruits and vegetables, should carry their own bags. For them, I am planning one more initiative #bhoomibachav.
Ramu's aim is to make the world plastic free. Last year he started a campaign, in which he asked people to bring plastic to him and he gave them a sapling. He later stopped it as people from far away places were coming to motivate him. He says, "They are coming in their cars, from faraway places, which will again lead to lot of pollution, which I don't want. So for now I have stopped that initiative."