Hyderabad: Amar Kokkanti, a techie from Madinaguda has filed complaints after complaints about the toxic smoke released by Telangana State Road Transport Corporation (TSRTC) buses but to no avail. Even worse is the fact that most of these buses have been running with no Pollution Under Control (PUC) certificate for the past ten years. Even though Amar has been knocking doors of the Pollution Control Board, the Road Transport Authority (RTA), Cyberabad Traffic Police and even the National Human Rights Commission (NHRC), not much has been done until now.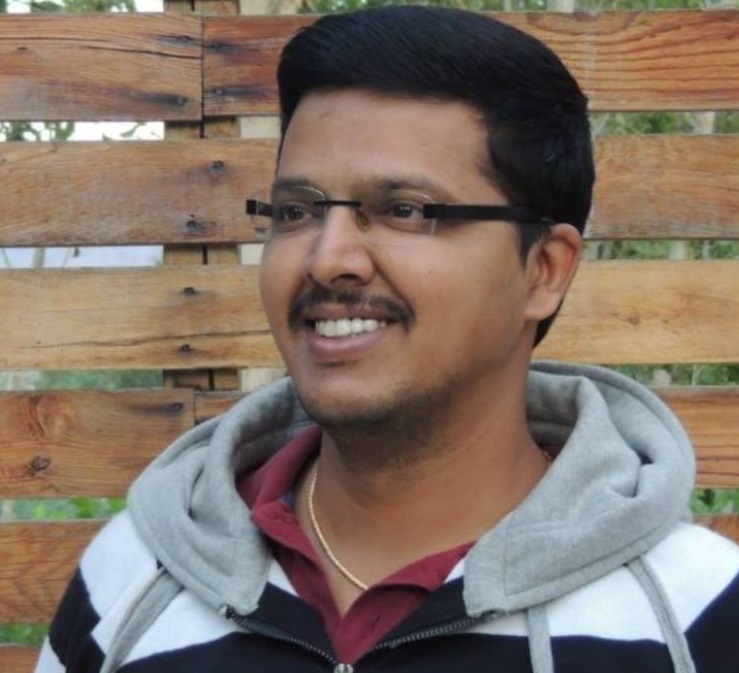 Amar Kokkanti
Amar's complaint is against a series of buses numbered from AP11Z#, notorious for their harmful emissions. "I had complained with Telangana State Pollution Control Board (TSPCB) on 7th August, following which they replied that RTA is responsible for checking the pollution levels of buses. Later, on 2nd September, I raised an official complaint with the Transport Department of Telangana, who forwarded the grievance to Regional Manager TSRTC Rangareddy and Regional Manager TSRTC Hyderabad, but no action was taken," said Amar.
The laxity of the authorities towards the issue compelled Amar to file a complaint with the NHRC as well, who, on 3rd September, directed the Principal Secretary of PCB to take an action within 8 weeks. It was then that he noticed that these buses have been plying without any pollution check. He immediately took to Twitter to complain with Cyberabad Traffic Police who has not responded to the tweet yet.
@AddlCPTrHyd @CYBTRAFFIC @HYDTP @Rachakonda_tfc Kindly take action on @TSRTCHQ buses AP11Z# emitting high pollution on roads with no PUC / Insurance. Serious issue. Proof below. 2010 old buses, impacting citizens & Traffic police on roads. Today Hafeezpet ->Kondapur @KTRTRS pic.twitter.com/PcdRI3u94p

— Amar O-Ve Blood Ready by 18thOct'19 (@AmarKokkanti) September 24, 2019
"I have taken this up because this is not just about 2-3 buses but actually hundreds of them. It is the collective responsibility of the PCB, RTA and the traffic police to ensure that the pollution levels are under check," comments Amar.
Responding to the complaint, K.P.V Raju, Inspector, Traffic Admin at Hyderabad Traffic Police said that it is the duty of the RTC Depot manager to take care of pollution check for buses. "We wrote to them several times but no use. But we can enter the numbers of these buses into our database and when the contact enforcement team checks, we can check their PUC and issue challan" said Inspector Raju.
However, an RTI filed by a concerned citizen addressed to the Commissioner of Police, Hyderabad dated 26th July, tells a different story. The Public Relations Officer for PCB has said that they give directions to RTC and that "pollution checking and monitoring usually comes under the Transport department." On the contrary, this RTI holds TSPCB responsible for controlling and stopping vehicular pollution. It also says that the Additional Commissioner of Police, Traffic is the first Appellate Authority for Hyderabad city in this case.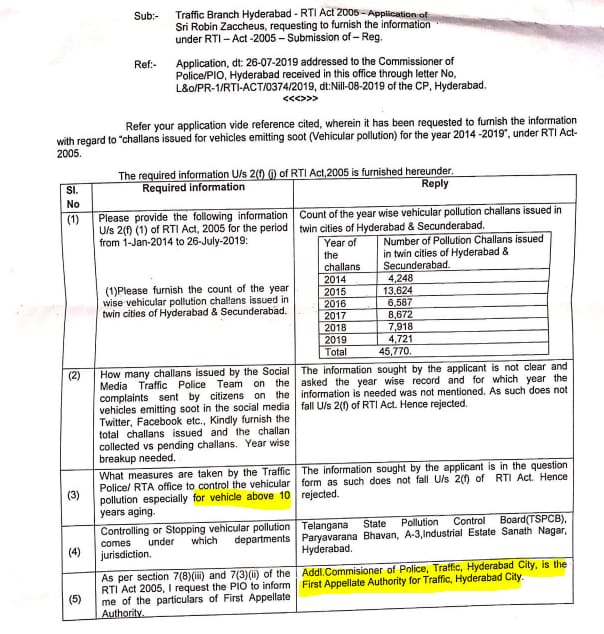 While authorities of each department wash their hands off from this issue, Amar and his son still wait for an answer. "I used to take my son to the bus stop. He would count the buses that were emitting so much, and note down their number too. I just want to create awareness that this problem exists and it needs to be addressed as soon as possible. It would not only help the citizens of the city but also the traffic police who bear the brunt of air pollution on a daily basis," concluded Amar.