Hyderabad: As environmental activists in Mumbai take their stand on the Aarey issue, they find that people across the country support their movement. Ever since the Mumbai High Court dismissed petitions against the felling of trees in Aarey Colony, things have significantly escalated. Activists believed that after their requests were denied they had time to appeal to the Supreme Court. However, Mumbai Metro Rail Corporation (MMRC), who wants to deforest the area to build a car shed, decided to move on with the project. This has led to widespread protests in the city.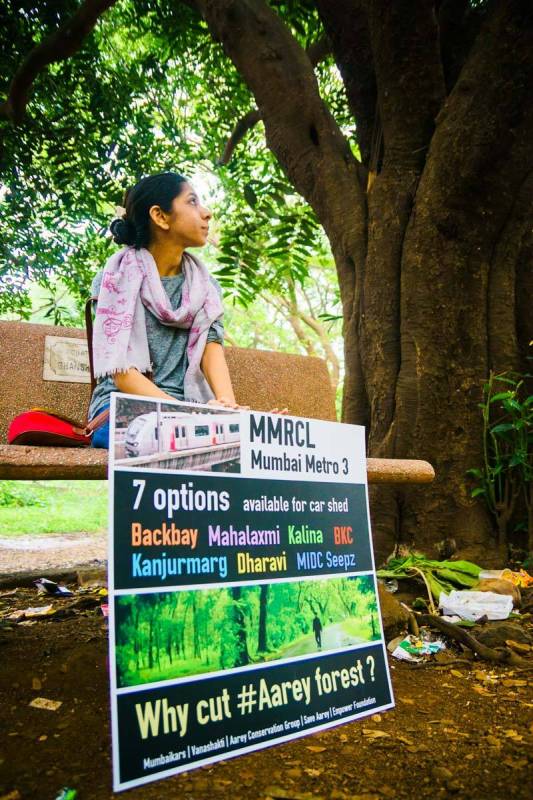 Citizens For Hyderabad organised a peaceful protest on Sunday in front of KBR, supporting the more significant movement in Mumbai. Their support comes at a crucial point when Mumbaikars are being arrested for exercising their constitutional right. The permission for the tree cutting was uploaded on Brihanmumbai Municipal Corporation (BMC) website on October 4. Rules stipulate that action can follow only after 15 days of uploading the permission. However, MMRC decided to finish the work fast and started on the same day.
Besides, according to a High Court order in June 2017, tree officers are to be present while cutting them down. Activists claim that no such officer was present at the scene when more than a thousand trees were cut down on day one. They also believe that they were not given a fighting chance on account of courts being closed for Dussehra holidays. Almost three dozen protestors were arrested in Mumbai after police imposed Section 144.
"Politicians and the media dictate what we need and completely ignore the signs that mother earth kept giving us. We are experiencing a different reality, and we know better than this. With the power we have given them, they are out to get us. Our food and water become our foremost concern in this situation," opines Citizens For Hyderabad.