Hyderabad: If you walk into one of the ten malls or one of the five IT tech parks in the IT corridor in Hyderabad, you will see a box there that might bring a smile to your face. That was all Archana Suresh had in mind too, when her Bring a Smile (BaS) Foundation partnered with a couple of other NGOs to install these 'Smile Boxes' in different parts of the city.
The idea behind these 'Smile Boxes' is to urge citizens to contribute their old but reusable items in the Smile Box, which will be later redistributed by the NGOs concerned. The boxes are the brainchild of CP Sajjaanar (Commissioner, Cyberabad Police) and Archana Suresh, a working professional from Hyderabad, who started the BaS initiative in 2012.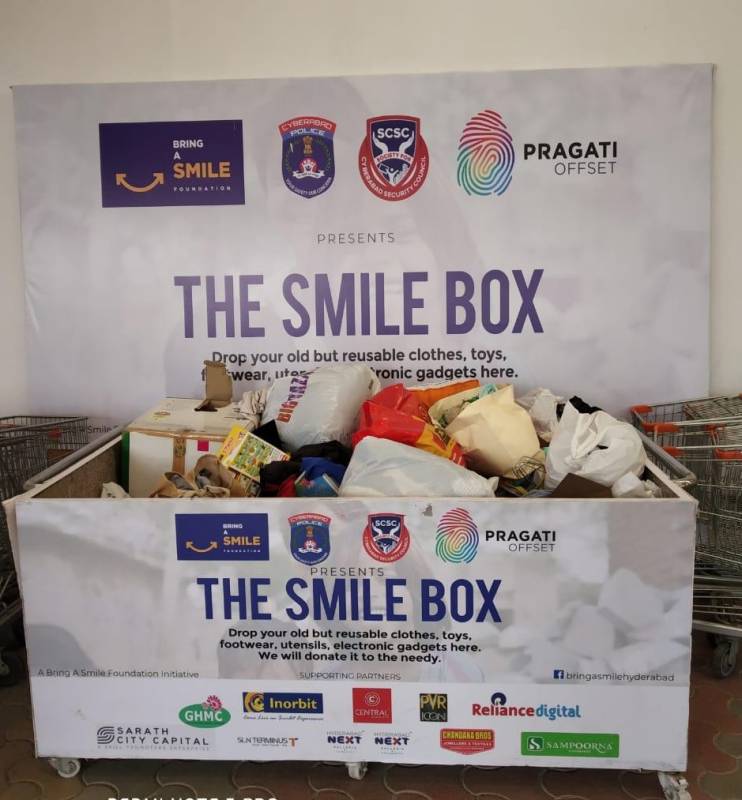 "Once, my mom was rummaging through the cupboard filled with so much stuff that she forgot what she was looking for. We have a ton of stuff in our cupboard which we don't use. There are enough underprivileged people in India who could reuse these items. Moreover, it is also good for the environment and reduces landfills. This is just to instill a thought in people to give away, to encourage the very act of giving," says Archana.
But what inspired her to take up this, alongside a full-time job? She replies that her mother's death in 2014 was the turning point in her life, following which she spiralled into a period of intense grief. Overcome by sorrow, she plunged herself into the project of bringing a smile.
The Smile box campaign began in July 2019. From October 1st, Society for Cyberabad Security Council (SCSC) had placed five of these boxes in five IT Tech parks, where over 2.5 lakh employees work, with the co-operation of BaS, Cyberabad Police, VRL Logistics and Pragati Offset.
That's all well and good but don't people dump their trash into these boxes? Archana says that only 20 percent of the items that they get is actually trash, while the rest are perfectly reusable. "We get clothes, footwear, toys, kitchen utensils, and some electronic items. We have joined forces with other NGOs like Robin Hood Army (RHA), Goonj, Aid et Action, and ensure that these items are distributed to the economically backward," added Archana.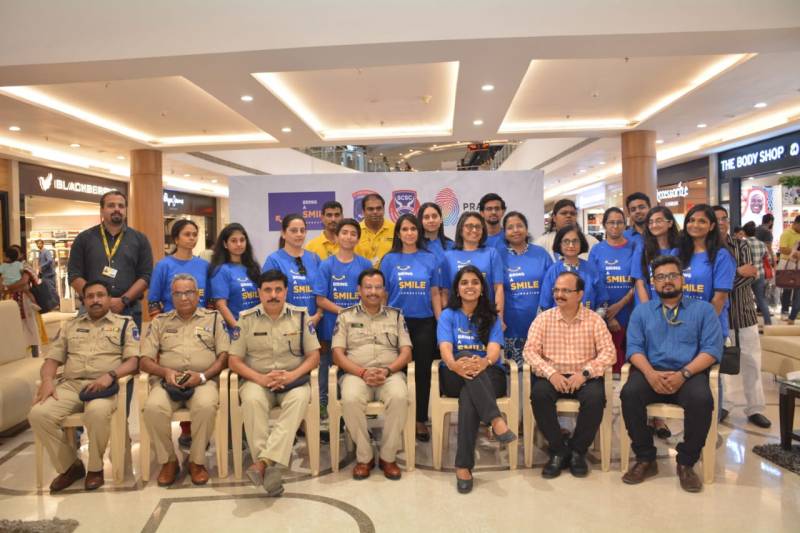 It goes without saying that the Boxes are just one part of the work that they do. They have been spreading smiles among the students of Venkateswara Nagar School, near Jagadgirigutta in Kukatpally Mandal. Mastan Ali, the principal of the school recalls how jubilant the kids were when they received shoes, books and sweaters from the volunteers of BaS foundation. They also built three classrooms for these students. "They are really small kids, and these little things are enough to make them happy. Most of them are below poverty line. 90 percent of the students' parents can't afford even the basic necessities. We are unable to provide these amenities as teachers. Now, the students are happy," said Mastan Ali.
It may seem hard to start, and even harder to sustain, but that's what Bring a Smile foundation has achieved. "If you want to help someone, start somewhere but just start. Bring A Smile is made up of people like you and me. You don't need grand plans to help; you could just try doing this in your own way- for instance, by packing leftover food after your meal in a restaurant and handing it over to an underprivileged person on the street," signs off Archana.
Also Read: https://newsmeter.in/a-friend-in-need-a-helpful-ferry-for-out-of-district-patients/