Hyderabad: International Cricket Council (ICC) released the latest Test Rankings on Tuesday as fast-bowler Jasprit Bumrah climbed nine spots up to No.7 with 774 points to his name whereas Indian Captain Virat lost 2 points but managed to stay in the No.1 spot with 910 points.
Jasprit Bumrah who has only played 11 tests till now and was No.16 until the Test series began. He made huge progress by climbing nine spots to reach No.7 on the current ICC rankings. Despite Bumrah's climb, Virat retained his No.1 spot with 910 points to his name.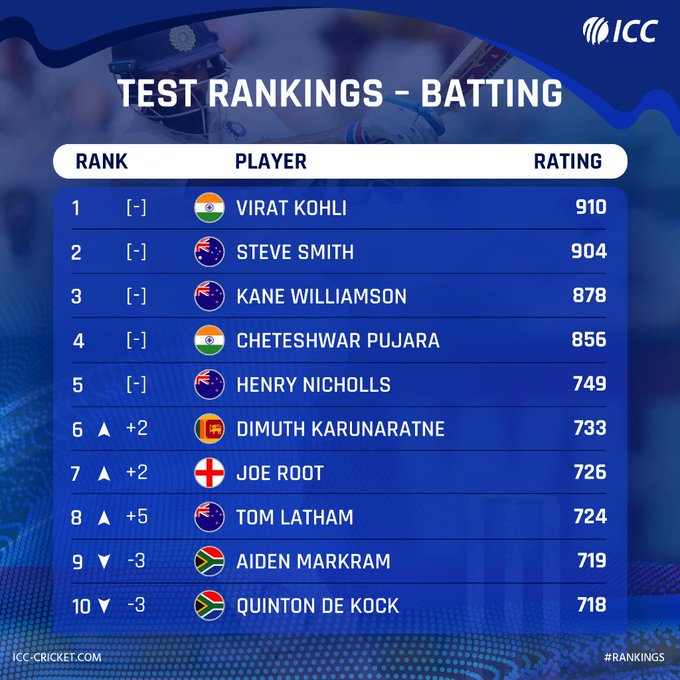 Steve Smith who made a comeback to Test cricket after a year took three innings to climb up to the No.2 spot with 904 points, leaving him six points behind Virat Kohli. Smith was No.4 until the Ashes began.
Pat Cummins maintained his No.1 spot with 908 points as he obtained a career-high 914 points equalling the record of Glenn McGrath for an Australian bowler in the Bowler's Rankings.
Kagiso Rabada followed Cummins with the second spot with 851 points.
When it comes to fall in the rankings, All-rounder Ravindra Jadeja fell five spots to No.10 in the Bowler's Rankings.
The All-rounder rankings saw a new No.2 wherein Been stokes claimed the No.2 spot and Jason Holder retaining his No.1 spot.
India made history as it became the first team to have it's five bowlers in the Top 25 with Jasprit Bumrah in No.7, Ravindra Jadeja in No.10, Ravi Ashwin in No.13, Mohammed Shami in No.19 and Ishant Sharma in No.21.