Hyderabad: Health Committee chairman of Municipal Corporation of Greater Mumbai, Maharashtra, has tweeted an image of a boat ambulance on August 9, 2020, with a claim 'A very unique and nice initiative by Maharashtra Govt. introducing Boat Ambulance from Mandava Jetty to Gate Way of India, Thank You @CMOMaharashtra!!!'
This was shared by many others on Twitter as well as Facebook.
Archived claims can be found here and here.
Fact Check:
The claim that the boat ambulance seen in the image is from Maharashtra is FALSE.
The news that Maharashtra government is planning to tap Mumbai's seaways to connect remote villages to the Mumbai Metropolitan Region with a water ambulance and a floating medical care service is true.
Last week, the state public health department approved a project to set up the water ambulance service between Gateway of India in South Mumbai to Mandwa in Raigad district, and is in the process of issuing tenders but these services are yet to be started.
As of now, The Gateway of India and Mandwa already have jetties, which will be used for the water ambulance too, cutting down on any additional infrastructure cost.
The image shared is not the boat ambulance to be used by Maharashtra.
By observing the image carefully, we found the words 'Guernsey' and also 'The Flying Christine III' on the boat. When reverse image search was performed using the image and these keywords, we found that Flying Christine III is the marine equivalent of an accident and emergency ambulance in Guernsey.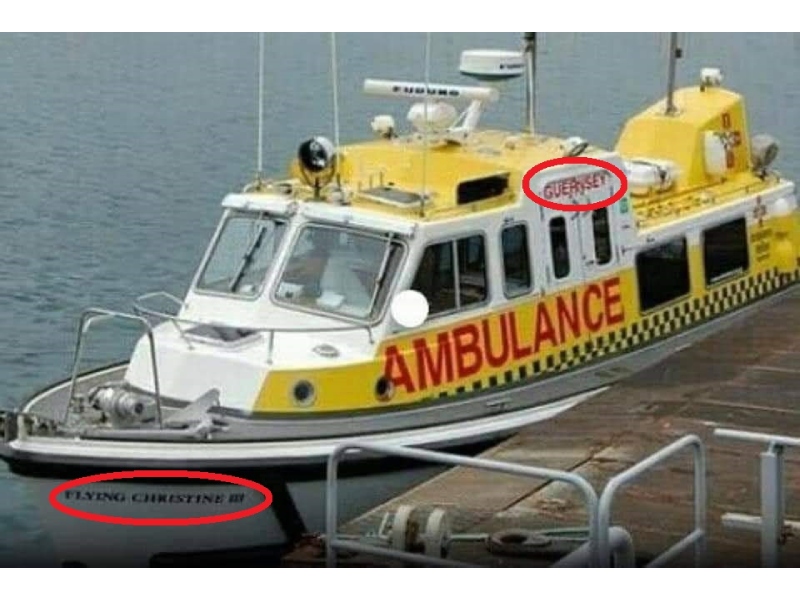 Guernsey is a self-governing British Crown dependency with its own parliament, its own government (called the States of Guernsey), and its own laws. It is 30 miles (48 km) west of Normandy, France, and roughly triangular in shape. With Alderney, Sark, Herm, Jethou, and associated islets, it forms the Bailiwick of Guernsey. Its capital is St. Peter Port.
Flying Christine III is an ambulance operated by St John in the Bailiwick of Guernsey, the vessel is on call 24 hours a day, from a mooring in Guernsey's St. Peter Port harbour. The vessel carries additional rescue equipment which enables the crew to deal with accidents at sea or on ships, as well as responding to incidents on neighbouring islands.
The Flying Christine III, launched in 1994, is the third vessel to carry the name since the service started in 1952.
This marine ambulance is still in service in Guernsey.
Therefore, the image of the boat ambulance seen in the viral message belongs to the Island of Guernsey. The claim is FALSE.
Claim Review :
Image of Boat Ambulance tweeted by Mumbai Corporation official is from Maharashtra
Claimed By :
Social Media