Hyderabad : India defeated Pakistan in yet another thrilling sport, but this time it's not cricket. In the U-23 Asian Volleyball Championship held at Myanmar, India stormed into the finals by beating Pakistan on Saturday. India is now going to clash with Chinese T in the finals at Nay Pyi Taw in Myanmar. For the first time that India has qualified for the finals in a Volleyball Championship. The finals will be held on Sunday. Union youth affairs and sports minister of India, Kiran Rijiju took to Twitter to congratulate the Indian team on their 'terrific victory' as they beat Pakistan 21-25, 25-16, 25-22, 25-18 respectively. Earlier on Saturday in a do or die semi-finals Chinese Taipei defeated Japan.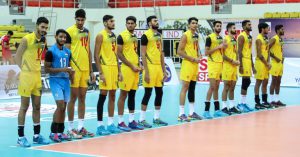 Amit Gulia-led men in yellow who were off to a shaky start as they lost the first set 21-25, made a stellar comeback by winning the next three sets (25-16, 25-22, 25-18) consecutively. India's key players, Amit Gulia and Muyhudsmy Appavu found their lost touch against the tough Pakistanis.
Sports Authority of India also took to Twitter to congratulate the Indian Team for their marvelous victory. India finished at 8th place four years ago in the inaugural championship at Nay Pyi Taw. However, India had to skip the second edition held in Iran two years ago. India has made a comeback in the third edition of the tournament to prove its mettle.