Highlights
India witnessed the highest dip in protest demonstrations since the pandemic

The second-highest number of violent incidents were registered during the pandemic
Hyderabad: A recent report published by the Armed Conflict Location and Event Data Project (ACLED) has revealed that India witnessed the second-highest increase in violence targeting civilians during the COVID-19 lockdown.
ACLED has been tracking shifts in political violence and mass protest movements ever since the World Health Organisation declared COVID-19 a pandemic on 11 March. As per the report, there was a massive surge in violence against citizens by both state bodies and vigilante mobs in India.
The report summarised that while protest demonstrations saw a 30 per cent dip post 11 March, there was a 2.5 per cent rise, globally, in violence against civilians. In India, this violence includes incidents of mob attacks against doctors, violence over curfew-based restrictions, and a stigmatised targeting of individuals suspected of spreading the virus. The report also said that Muslims comprised the largest group of victims of stigma-based attacks.
At the global level, mob violence by crudely-armed groups also rose by 11 per cent, with ACLED registering 1,800 events of mob violence in its three-and-a-half-month study period.
Author of the report, Mellisa Pelvick, also mentioned that India was at the peak of protest demonstrations before the pandemic due to a large-scale opposition against the Citizenship Amendment Act passed by the Central government in December 2019. The protests, however, dipped owing to the lockdown. The report also said that for the third time since 2016, political violence in India was above the graph of protest demonstrations.
Globally, India saw the highest dip (58 per cent) in demonstration events. While 5,697 demonstration took place before the pandemic (November to March), it decreased to 2,410 post-pandemic. The report tags this to increased violence against civilians and protestors and the state crackdown against them.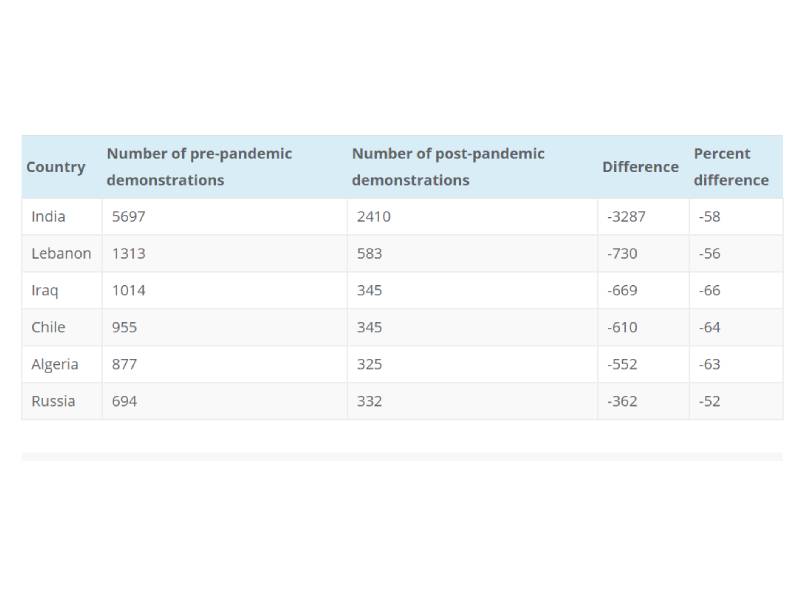 Top five countries that saw dip in demonstrations
Source: ACLED
The decrease in demonstrations may also be a response to state crackdown and increased violence targeting civilians and protesters — political violence increased in India, even as demonstration levels dropped. This includes state violence targeting civilians, mob violence including the targeting of health workers, and clashes between Indian security forces and domestic rebel groups.
The majority of the cases of violence registered in the country were violence by the state.
Globally, the report said, suppression by the state increased 30 per cent and 18,000 events of the state targeting civilian forces occurred since the pandemic began.