Hyderabad : In the outbreak of Coronovirus in India, the Central government including respective state heads, has adapted certain preventive measures to contain the spread. One of the primary steps taken is the temporary shut down of educational institutions and even public transport in Maharashtra. Employees have been asked to work from home while few companies have stopped operations till further orders.
However, in the wake of a number of message making rounds, a text stating "All Indian Citizens are Entitled to Rs.7000 per week to stay at home to avoid the spread of COVID-19 novel Coronavirus, starting from March 16, 2020, has gone viral . The message also states, 'The Indian Government grant pay is accessible to all no matter employment status. Read full article here on how to claim:
https://external-preview.redd.it/vxPXEGgL4v8mCGw06IFGsmJNtq…". The message is gone viral on Facebook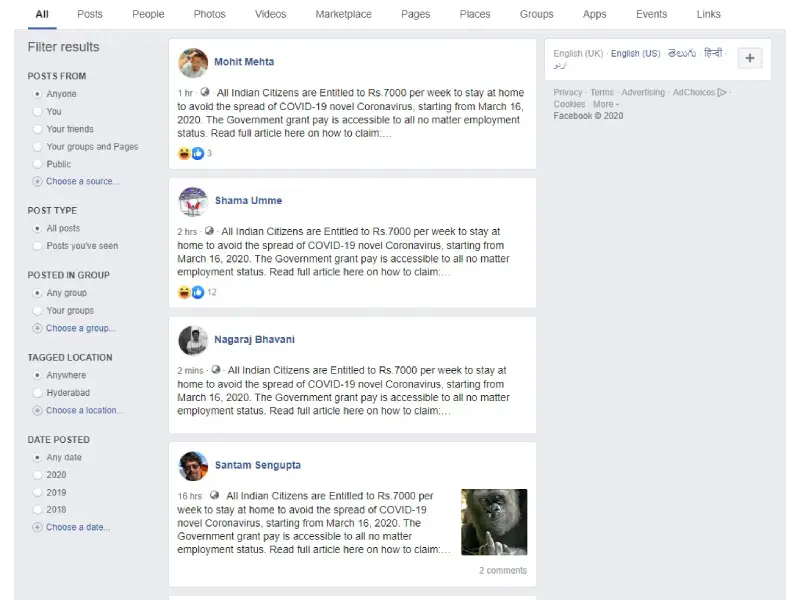 Fact Check:
Investigation done by this correspondent found that claim to be FALSE. As we click on the link, there is no document that shows details. The only thing we can see is a picture of a monkey showing in inappropriate gesture. The message is a prank.
Further checks found a government website and social media handles, which does not provide much info
It is supposed to be a satire and is NOT a genuine message.
Therefore, the claim that government of India is offering all citizens Rs. 7000 per week to stay at home, irrespective of their employment status is FALSE.
Claim Review :
Indian Citizens entitled Rs 7000 per week to work from home
Claimed By :
Social Media Users