Hyderabad: A 45-day-old baby from Mahbub Nagar district of Telangana, infected with CoronaVirus has been successfully cured and was discharged from Gandhi Hospital, on April 29th. The baby boy was admitted when he was 20 days old, making him India's youngest patient to have survived the deadly virus.
"The baby had contacted the infection from his father. He was subsequently tested positive for COVID, and shifted to Gandhi Hospital when he was 20 days old. It is overwhelming to announce that he is cured and discharged on Wednesday. He is probably the youngest patient in the country to have been infected and recovered successfully' said a statement from the Telangana's health department officials.
Over 32 patients including 13 children were discharged on Wednesday. A joint family of 13 member from Hafeez Baba Nagar of Hyderabad, who were admitted on April 6th were declared COVID free and were allowed to return home. The children thanked the doctors at Gandhi for their care rendered besides the treatment.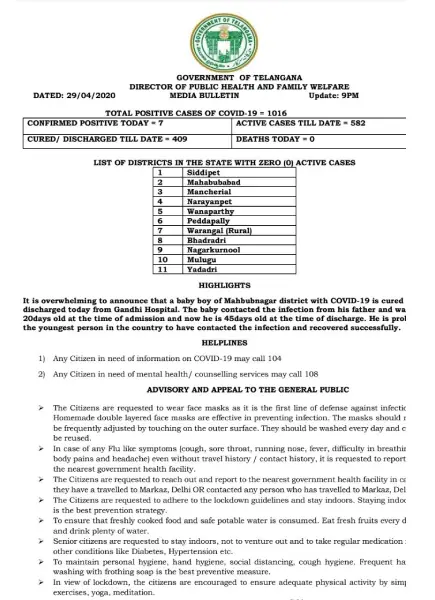 Meanwhile, the state reported 7 new COVID cases on April 29th, taking the tally to 1016 positive cases, of which 582 are active, while 409 are cured and discharged.
Telangana government claimed that, 11 districts in the state, namely, Siddipet, Mahbubnagar, Mancherial, Narayanpet, Wanaparthy, Peddapally, Warangal (rural), Bhadradri, Nagarkurnool, Mulugu and Yadadri, are COVID free. These districts now have zero COVID cases.