India is a country where cricket is a religion, while cricketers are considered gods. In this scenario, other prominent sports have suffered over the years due to lack of attention and support, from audiences and administration.
However, with the commencement of league tournaments, sports like badminton, football and kabaddi have garnered people's attention and have relatively started doing better. In contrary to the men's teams who have found platforms, women's teams struggle across distinguished sports, especially at the grassroots level continues.
If asked to name an Indian footballer, many people will recall Sunil Chhetri but will fail to name a top player of the Indian Women's football team. Frankly, I am one of them.
BENGAL — FOOTBALL LOVERS PARADISE
Bengal has always been a special place when it comes to football. When the two most competitive clubs — Mohun Bagan and East Bengal — take on each other, entire Bengal is hooked to their TV sets. That's how crazy it is.
I witnessed a similar incident in a village while travelling near the India-Bangladesh border. I saw a field densely crowded with people of distinguished ages cheering loud for participating teams.
On reaching the spot, I found out that it was a women's football tournament with around 10-plus teams participating. The scene was such that would make one question if this is indeed India, where people barely take an interest in any sport apart from cricket? Almost an entire village was out on the field, supporting participating teams, and the young women showcased their skills, keeping the crowd on their edge.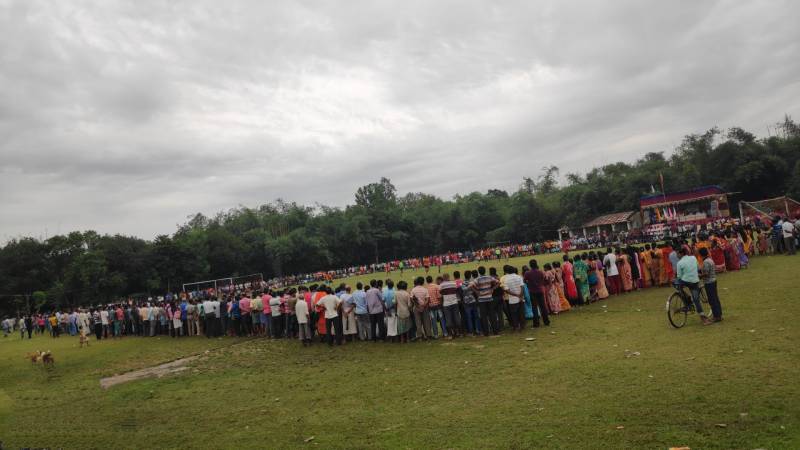 The tournament is an annual event organised by a local organisation named Navajeevan Club. The president of the club, Kanchan Biswas, while speaking to NewsMeter, said, "We organise this tournament every year and see a similar response. Through this tournament, we want to promote women's football and women footballers, so that in future they have recognition at the top level." Biswas added that through tournaments like these, they hope that more and more talented women footballers can be identified.
The scene I witnessed in one of the most rural areas of the country, that too near the border, is a positive message to the country. If proper support and attention are provided to sportswomen, we can produce more Sindhus, Sanias and Aditis.
My narration of the entire episode that I witnessed is a contribution and a mark of change as I decided not to be part of the 'masses' anymore. By the way, Aditi Chauhan is the goalkeeper in National Women's football team and also the first Indian female footballer to play for an English club.