Highlights
Rachakonda police book FIR against KV Maheswara Reddy
IPS trainee allegedly threatened that he got political clout in AP government
She waited for him for 9 years
KV M Reddy told Birudula that his parents wouldn't agree because of her caste
Hyderabad: It's case of IPS cheating wife. A 28-year-old woman, Birudula Bhavana of Hyderabad, has alleged that her husband, Kokkanti Venkata Maheswara Reddy, an IPS probationer of cheating, besides threatening to kill her . The IPS probationer of 2019 batch has refused to accept her as his woman as she belongs to a caste, Birudula alleged.
Venting out her emotions on a social blogging site Twitter, Bhavana Birudala a resident of ECIL expressed about the injustice done to her over the years from the genesis of their relationship. Police said FIR has already been registered and before booking FIR the couple was called in for reconciliation as it is a matrimonial dispute.
She alleged that her husband Kokkanti Venkata Maheshwara Reddy an IPS probationer , currently undergoing foundation course training at LBSNAA cheated her for another woman, as he is being offered huge dowry from the marriage proposal. KV Maheswara Reddy secured 126 rank in UPSC examination.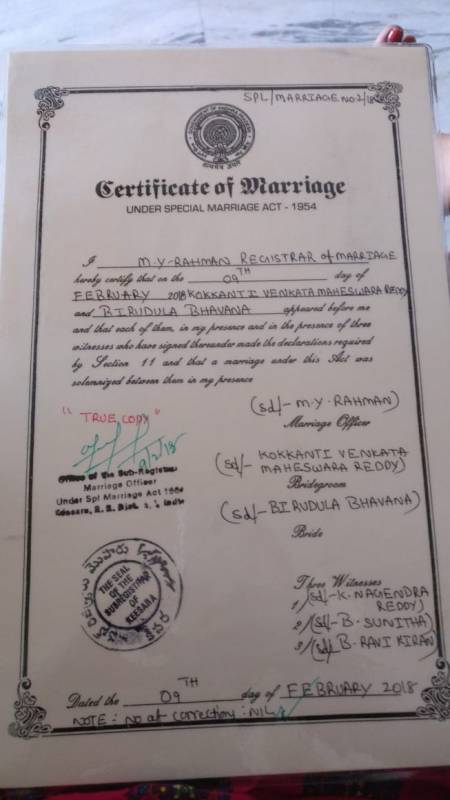 Bhavana, now a government employee met Venkata Maheswara way back in 2009 while they were pursuing engineering in Osmania University- Hyderabad. Since then they have been a couple .
She shared, "Venkata and I, have been in a relationship for nine years before we tied the knot on February 9, 2018.When we first met at the University. It started, when he wanted to be friends with me, gradually he liked me. Later he said he loved me and promised to marry me, " recalls Bhavana while sharing her ordeal.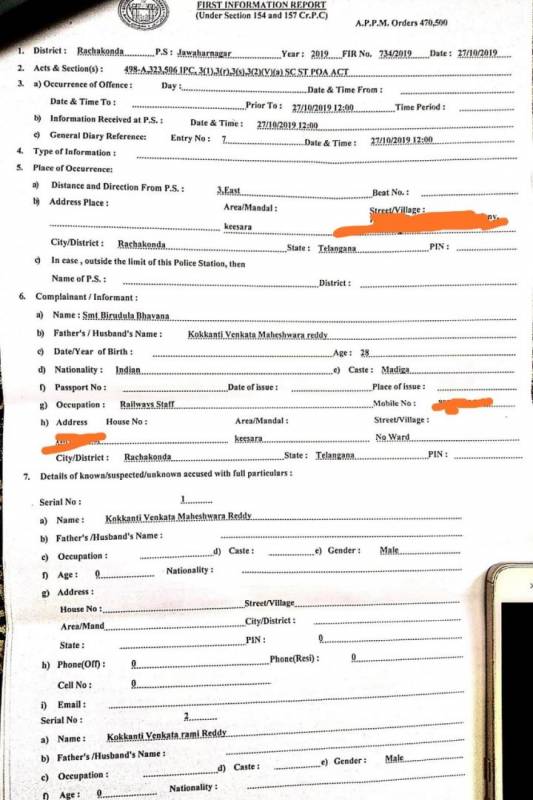 "He even said that he can't live without me but now he says he got another match and they are offering him huge dowry. Before he cleared UPSC, He convinced me by saying that he wanted to get a good job before marrying me and needs my support financially. I did everything possible to support him but now suddenly he changed after clearing UPSC".
28-year-old Venkata Maheshwara Reddy who hails from Kadapa district in Andhra Pradesh cleared UPSC exams in the year 2019. He secured 126 All India Rank(AIR). He is the youngest child to his parents who are into farming. He is holds a degree from IIT Mumbai.
Bhavana explained the cycle of events after he cleared his UPSC , "In July he told me that on becoming an IPS probationer, he received marriage proposals offering him huge dowry and now he wants to remarry and is insisting that we divorce . I was really shocked to hear this from him , I sacrificed a lot to support him for his studies until he became cracked UPSC . Now he wants to leave and marry another woman for money. This is best example of how Money and power change people. I demand justice now and want my family's safety at every cost as he is more powerful now".
I kept my career aside and chose risky job to support him,

I faced a lot of challenges and did everything to support him,

He got selected as an IPS officer,

Then he said he got a marriage proposal,

He said, they offered him huge dowry,

— Bhavana birudula (@bhasonuvna) October 28, 2019
The woman is seeking security from the police as she fears that her husband Venkata might pull few strings to shut her down. The IPS cheats wife case will have to be now investigated says police.
"He threatened me stating, he met all the top police officials of Hyderabad. And that nobody would help me , he also sent goons to my home. He threatened my parents too, and warned me that if I go public I could lose my job and my reputation. He has reduced me to an object. I stand at the police station feeling cheated, abused, exploited and discriminated saying that he can't tell about me to his parents because of my caste. My husband, blackmailed me that his entire family will commit suicide if discloses our marriage to them . My family is under threat too as he warned them of dare consequences if we go public . I don't feel safe anymore. The only mistake I made was to love and trust a person more than he ever deserved", she further added.
He threatened me that he has the support from ysrcp leaders/MLAs/MPs,
He even used CM-AP name to threaten me,
He threatened me that power and paisa can save any person from any kind of crime.
He threatened me that he would kill me and my family without leaving a trace,

— Bhavana birudula (@bhasonuvna) October 28, 2019
Bhavana lodged a police complaint in Jawaharnagar Police station in Rachakonda limits on September 10. A case has been registered against him under sections 498-A, 323,506IPC, 3(1), 3(r), 3(s),3(2),(V)(a)SC ST POA ACT on October 27,2019. Reacting on IPS cheats wife case, Rachakonda commissioner of police Mahesh Bhagwat said Law will take it's own course. He added ,"FIR has been already registered in Jawaharnagar Police station. ACP Kushaiguda is the investigation officer. As per High Court order three times counselling has to be done in matrimonial issues before FIR is booked. Parties were called and given opportunity for reconciliation,"
Sir, Registered case on your complaint and it is under investigation.

— Jawaharnagar Police Station (@Jawaharnagarps) October 27, 2019